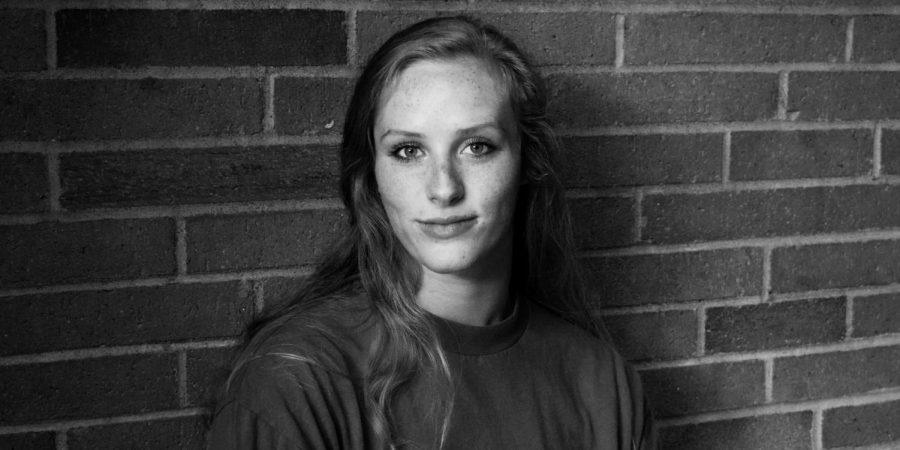 Senior Naomi Walker is the Marketing Director for the West High
Beak 'n' Eye, 
making her responsible for the newpaper's social media accounts and business affairs
.
Walker is a little undecided when it comes to what she wants to do in the future. She believes she either wants to go to Purdue University in Indiana or Iowa State University. At either of those colleges she would like to study to be either a chiropractor, law enforcement agent or an anesthesiologist.
One thing that Walker does plan on doing is moving to North Carolina with her sister.
"There's mountains and beaches and I love them both so much," Walker daydreams.
When not in the newspaper room at school she participates in cheer, National Honors Society, and newspaper. In her free time she also enjoys painting, hanging out with friends and working out.  
Written by Emma Day
Naomi Walker, Social Media and Business Manager
Feb 16, 2019

Signs of love through the vines of valentines

(Media)

Nov 27, 2018

Senior Spotlight: Alexa Glandon

(Story)

Nov 09, 2018

Volunteer extraordinaire

(Story)

Oct 31, 2018

West drives home the Student Hunger Drive

(Story)

Oct 17, 2018

Students plan to take on Italy

(Media)

Oct 08, 2018

Senior Spotlight: Haley Dawson

(Story/Media)

Sep 21, 2018

Fifty-eight students inducted into National Honors Society

(Story)

Sep 20, 2018

Welding students refurbish 9/11 memorial

(Story/Media)

Sep 17, 2018

Homecoming week recap

(Media)

Sep 17, 2018

Senior Spotlight: Carson Kahley

(Story/Media)

Sep 07, 2018

Humans of West: Jane Kroening

(Story/Media)

Sep 03, 2018

2018 homecoming court Q&A

(Story)

Aug 27, 2018

Fresh faces of administration

(Story/Media)

May 31, 2018

2018 graduates prepare to walk the stage

(Story)

May 31, 2018

Moving on: Mike Wells

(Story/Media)

May 23, 2018

Retiree: Barbara Lipnick

(Story/Media)

May 22, 2018

2018 boys track places at State

(Story)

May 17, 2018

Senior Spotlight: Breelyn McMahon

(Story/Media)

May 15, 2018

Humans of West: Nicholas Nahnybida

(Story/Media)

May 08, 2018

Humans of West: Kris Castelluccio

(Story/Media)

May 07, 2018

Charity Week: Fashion Disaster

(Story/Media)

May 04, 2018

Humans of West: Ricky Vance

(Story/Media)

May 03, 2018

West's 2018 athletic college signing

(Story/Media)

May 03, 2018
May 01, 2018

Senior Spotlight: Rachel McCullough

(Story/Media)

Apr 27, 2018

Hall of Honor 2018

(Story)

Apr 25, 2018

Humans of West: Cassidy Kengott

(Story/Media)

Apr 20, 2018

Humans of West: Mia Nelson

(Story/Media)

Apr 19, 2018

One last drop for the Mississippi Valley Regional Blood Center

(Story/Media)

Apr 13, 2018

Humans of West: Brandon Yoder

(Story/Media)

Apr 11, 2018

High school band takes big steps towards future music career

(Story)

Mar 30, 2018

Falcon's Nest helps students in need

(Story/Media)

Mar 20, 2018

Falcons take on spring break

(Story/Media)

Mar 08, 2018

Women of West: Barbara Lipnick

(Story/Media)

Mar 08, 2018

Softball team pitches in to benefit the community

(Story)

Mar 01, 2018

West hosts Steamwheelers game

(Story)

Feb 23, 2018

Courtney Schaeffer awarded second place in Quad Cities Science Fair

(Story)

Feb 20, 2018

Engineering students present projects at Iowa's Capitol

(Story/Media)

Feb 10, 2018

West hosts third blood drive of the school year

(Story/Media)

Feb 01, 2018

West crowns 2018 Gala King Brett Erwin

(Story)

Jan 25, 2018

Super power personality quiz

(Story)

Jan 23, 2018

Wrestling team hosts senior night for West

(Story/Media)

Nov 17, 2017

Beak 'n' Eye Meet the Press recap

(Story)