West drives home the Student Hunger Drive
Hundreds of students and staff spend time and money supporting the Student Hunger Drive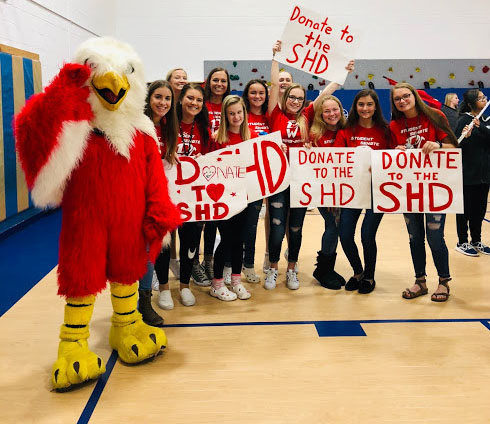 Naomi Walker, Co-Media Editor & Business Manager
October 31, 2018
Throughout the month of October, Student Senate held multiple events and rallies in order to promote the Student Hunger Drive and collect non-perishable food and money for those in need.

The series of events began with a hunger drive kick-off and skit competition on Sept. 24 to get students excited. Student Senate informed students of all the events happening within the school and the community.

"The hunger drive is so important because of community involvement and it is literally ending hunger," Student Senate advisor Annie Perez said. "Hunger is a solvable problem."

The week of Oct. 15-19 was spirit week. Students dressed up for the themes in order to support the hunger drive. There was 'Murica' Monday', 'country and country club Tuesday', 'cut of this world Wednesday', 'mathletes vs. athletes Thursday' and 'hat and jean Friday'. In order to wear a hat you had to pay one dollar and for jeans it was five dollars.

"The hunger drive is awesome because of all the activities that make everybody more connected with the school. Not everybody is an athlete or a robotics kid," social worker Jenn O'Hare said.  The hunger drive is a way to involve everybody."

The week of Oct. 8-12 was class challenges week. Freshmen, sophomores, juniors and seniors brought cans into their respective classes, and at the end of the week the boxes were weighed to see who brought the most. Plus, they took into consideration the money donated as well. The final amount for each class; freshmen: $139.82, sophomores: $123.65, juniors: $51.63, and seniors won with: $151.21. One week later senior Raul Estefania donated $255 after he already donated $20 previously. In total Estefania donated $275.  

"My inspiration for this was just the people around me doing nice things too. I thought 'Hey they are doing nice things, I can do those too'. Some people bring out the best in me," Estefania said. "I am really happy that I have such an amazing group of supporters and people that helped me do this."  

Estefania made a Snapchat video saying he wanted all his friends to donate extra change or cans if they could. He then said for every view that his Snapchat story video got, he would donate 50 cents. His goal was 500 views. For a while, he had around 400 views but then his friends started to promote it and after the 24 hour time period, that the video was up to 509 views.

"I never thought I would give a donation like this, but things happen and people change for the better. Be grateful for every single thing you have," Estefania said. "Money is good and all, but at the end of the day someone else needs it more."

In order to obtain canned goods and money outside of the school, Student Senate, sports teams, clubs and student volunteers collected donations at the West Locust Hy-Vee every weekend starting on Oct. 6.

"The partnership with HyVee probably had the biggest impact because we are getting all the clubs and organizations from school working it and the community sees it as well," Perez said. "Our senators have helped with the mobile food pantry and I think that has made a big impact on them individually seeing where the food goes to."

The weekend of Oct. 20-23 students had shifts to collect monetary donations and non-perishable goods at Azteca 1 on Brady Street. For every five cans brought in, you got a five dollar coupon.

"Azteca was a last minute partnership, but it worked out for both of us. We raised about $250 with boxes of food. So next year we will partner with them again," Perez said. "Obviously, we will aim higher, but it worked for a last minute deal."

Oct. 24 was dine in night at Pizza Ranch. Student Senators helped bus tables after anyone who came from 4 p.m. to 8:30 p.m.

"At Pizza Ranch senators volunteered to bus the tables. We all wore our Student Senate shirts so the customers would know what we were there for. If they brought a can they received .50 cents off their purchase, but they could also donate money in a bucket at the front or leave it on their table as a tip," Student Senate president Presley Roseman said.

The Asian Club and Leo Club held a friendly competition to see who could collect the most food around Davenport. They each had certain neighborhoods to cover and all together the clubs brought in 75 boxes. The winner of the competition was the Asian Club. Other than that, Student Senate did Harvest the Cities on Oct. 21 from 10 a.m. to 3 p.m.

"We have had the hunger drive ever since I have been here, for the last 17 years. We do a really awesome job with that. As far as identifying hunger as a huge issue here, I would say in the last three years is when I have been more aware of that," O'Hare said. "The need in our community for that assistance is just overwhelming."

Principal Cory Williams said she would get taped to the wall if the students could raise $1,500 in a week and they ended up raising over $1,500. Williams was taped to the wall on Oct. 6 during B and C lunches. Junior Seve Armeta donated $25 in order to pull the stool out from under Williams after being taped to the wall. Then, every donator after that got to take a selfie with Williams.

"Getting the school involved in student hunger drive is very important because some of the food that gets donated comes right back to West in the Falcons Nest. I think students were excited for spirit days and the new event of having Mrs. Williams duct taped to the wall," Roseman said. "In my four years of being at West, I have never seen so much student involvement and it was really cool to have this as my final hunger drive."

To complete the fundraising activities seniors Mia Nelson and Roseman plan on trick or treating on Wednesday Oct. 31 in Nelson's neighborhood.

"We are going door to door to collect cans, not candy. Her neighborhood is a little further out towards Bettendorf so we can reach those families that weren't hit during Harvest the Cities," Roseman said.

In monetary donations, Student Senate was hoping to get about $8,000 after the weekend of Oct. 26-28. As of Oct. 24 they were at $6,000. On Thursday Nov. 1 Student Senate staff will be buying food from the West Locust Hyvee with the monetary donations to add to the food donations. After this, they will weigh all the food and they will then know the total pounds of food raised.

"I am a beneficiary of the hunger drive because the Falcons Nest receives deliveries from the food bank twice a month," O'Hare said. "School is hard and being a teenager is hard under the best optimal conditions. If your basic needs aren't met – food, clothing, and shelter – it is hard to make school a priority. It takes a village to raise a child and we have a big village here at West High School. We need to address those issues so kids can come to school and be successful."

Updated on 11/2/2018: West students raised the most pounds of food out of all the Quad Cities high schools. All together the school raised 63,964 pounds of food throughout the month of October, with the help of the community and feeder schools. This is enough food for approximately 77,000 meals!