Humans of West: Jane Kroening
Jane Kroening has taught English at West for 14 years and claims she bleeds red and white.
"When I first came here my son and daughter [went to school here]. I was teaching at Walcott. I was very involved in the Booster Club [at West] and saw a position open up. I was spending a lot of my time here anyway and wasn't unhappy at Walcott but it seemed like a good time for me to move here," Kroening said.
Kroening grew up in the west end of Davenport and went to St. Ambrose University (originally St. Ambrose College) after graduating from West High. She earned her Bachelor's degree in Physical Education as her major and English as her minor. Now she has two children and two dogs.
"Jane is the oldest of six kids. She cared for her siblings without ever once complaining. She never once caused any family problems. She earned great grades in school. She fearlessly competed in sports in high school and college: tennis, swimming, gymnastics, softball, basketball. She played the flute in the Falcon Marching Band and became a flag girl. She also participated in the St. Ambrose University band. She worked her way through college—at one point peddling a morning newspaper rout during one of the worst Iowa winters ever—and never asked for a dime for books or tuition," Kroening's father Jon Ripslinger said.
As an English teacher, Kroening is very passionate about reading. She believes students these days do not read enough.
"My father was a language arts teacher and my mother was a teacher also. They have always modeled reading and I have always found great joy in reading. Living in other worlds, when you read a book you can go anywhere. I think that is important for students to expand their horizons and their imagination," Kroening said.
Kroening's father, Jon Ripslinger, is also an author. She claims her favorite book would have to be one of her father's, 'The Weight of Guilt'. The book is about a high school senior who got in trouble his junior year in Des Moines and moves to Davenport.
"I think my family would describe me as being silly. They laugh at me all the time. I hope my friends would describe me as being caring or thoughtful," Kroening said.
Kroening has family and friends that do speak of her how she thinks they would.
"She teaches English, just like her dad. How cool is that? She's taught at Frank L. Smart and Walcott, and now at West, where I taught. At West, besides teaching, she's been the leader of the Student Council and the Hunger Drive. She keeps score for Falcon basketball games. For baseball games, she either works the scoreboard or keeps the pitch count. Besides all that, she's a loving wife and mother of two. I'm sure I've left something out, but I think the idea's clear: I'm proud of her," Ripslinger said.
Kroening has done a lot in her life and is a busy person but in the summer she spends almost all her time in the pool in her backyard. During the school year she scores the volleyball games and takes stats for basketball games. In her free time at home she does a lot of reading and likes to watch criminal shows, her favorite one being NCIS.
"[Kroening] remembers everyone's birthdays here. On the first day of school we all had a little mystery plant and she claims she doesn't know what we're talking about but she is the little elf that delivers those. For our birthdays she had a little Mickey Mouse thing she puts in our rooms, " English teacher Amanda Ray said.
Kroening would love to go on the the Disney cruise around the Hawaiian Islands. She is a big Mickey Mouse fanatic. She has been on 30 Disney cruises. Also, her husband has gotten her a Mickey Mouse necklace for her 60th birthday and Mickey Mouse ring for their 30th anniversary. According to her father almost every room in her house consists of Mickey Mouse. It could be in any form; towels, dishes, silverware, quilts, pictures, trinkets, ornaments.
"This is going to sound cliche but I really wish people could be kind to one another and just get along. I don't know why we have to fuss at each other. I think it is about modeling. If I do something, and you get two people to do the same thing, and somebody else too. If everyone just did that one thing, it might make a difference for somebody who is having a bad day already," Kroening said.
About the Contributor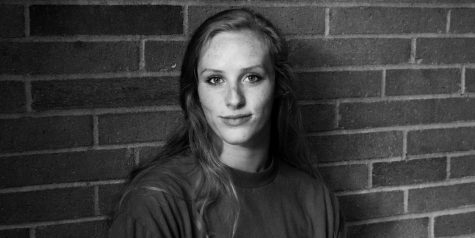 Naomi Walker, Social Media and Business Manager
Senior Naomi Walker is the Marketing Director for the West High Beak 'n' Eye, making her responsible for the newpaper's social media accounts and...