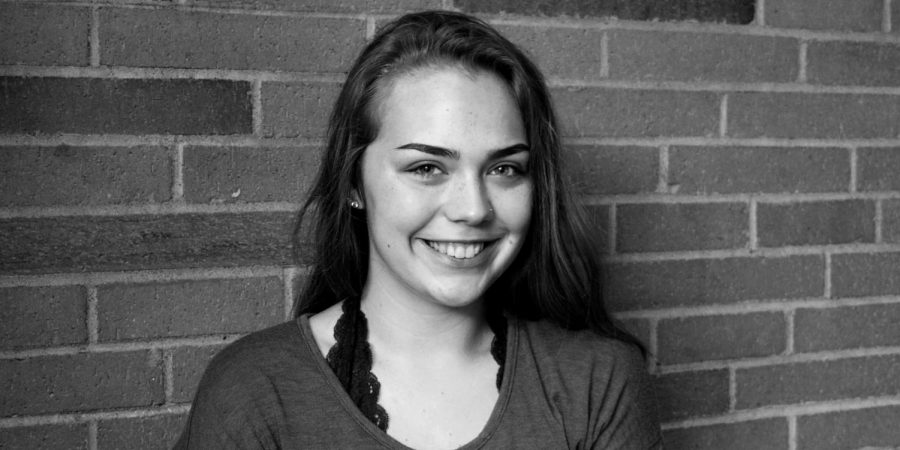 Senior Emma Day is the Marketing Director for the
Beak 'n' Eye
newspaper staff. She
 posts on social media with updates on events/people, post links to stories and does shout outs for ads.
For the 2018-2019 year Day plans to incorporate more into her role in newspaper. Her goal is to cover smaller events and have a wider coverage.
Other than newspaper, Day enjoys to watch YouTube, hangout with her drama club and show choir friends (although she isn't involved in either) and write.
If Day could change the world in one way, she would make it a better place in general, where everyone feels respected and equal.
Day plans on attending Scott Community College in the fall of 2019 for two years to get her associate's degree. After that, she plans on transferring to the University of Iowa to get her masters in psychology as well.
After all her schooling she wants to live in Tennessee to become a Mental Health Therapist. Tennessee is Day's happy place that feels like home because she has visited since she was little.
Her dream is to have a tiny house with a white picket fence around her 1 or 2 acre yard. She plans to have dogs, ducks, pigs, and many other types of animals.
Day is also huge music addict. She listens to all types of music depending on her mood. Her selection can go from rap, to pop or bands, to 80's rock, or even musicals.
Written by Naomi Walker
Emma Day, Reporter
Feb 05, 2019
Oct 18, 2018

WINGs Club hosts guest speaker

(Story/Media)

Oct 12, 2018

Which West teacher are you?

(Story)

Oct 10, 2018

How would you spend twenty dollars?

(Story)

Oct 03, 2018

Senior Spotlight: Izzy Sheumaker

(Story/Media)

Sep 28, 2018

Humans of West: Shamane Serrano

(Story/Media)

Sep 17, 2018

Homecoming week recap

(Media)

Sep 04, 2018

Pre-cap of show choir season

(Story)

Aug 29, 2018
Aug 09, 2018
Aug 09, 2018
Aug 09, 2018
Aug 09, 2018
Aug 09, 2018
May 29, 2018

Moving on: Tyler Finley

(Story)

May 25, 2018

Retiree: Mark Bigler

(Story)

May 15, 2018

2018 Charity Week recap

(Media)

May 07, 2018

Musical review: "Oklahoma!"

(Story/Media)

Apr 30, 2018

Successful money making apps, websites

(Story)

Apr 19, 2018

Problematic weather for sports

(Story)

Apr 13, 2018

Senior Spotlight: Mary Baril

(Story/Media)

Apr 11, 2018

Tate requests 1.5 million reserve fund dip for school security

(Media)

Apr 10, 2018

Just a friendly reminder: Grown men hitting on underaged girls is not okay

(Story)

Apr 07, 2018

Preview of "Oklahoma!"

(Story)

Mar 29, 2018

Women of West: Kassie Remley

(Story/Media)

Mar 21, 2018

Women of West: Hailey Dormire

(Story)

Feb 10, 2018

Sophomore and varsity boys basketball take a W at Muscatine

(Story/Media)

Feb 03, 2018

Sophomore and varsity boys play at North Scott

(Story/Media)

Feb 02, 2018

Cutest Couple Twitter Contest begins Feb. 1

(Story/Media)

Jan 22, 2018

What book should you read this month?

(Story)

Jan 20, 2018

Boys basketball goes against Central Dewitt

(Story/Media)

Dec 19, 2017

Boys' basketball at Pleasant Valley

(Story/Media)

Dec 13, 2017

West faces the Knights at Assumption

(Media)

Nov 17, 2017

Beak 'n' Eye Meet the Press recap

(Media)

Nov 17, 2017

72 inducted into National Honor Society

(Story/Media)

Nov 08, 2017

"Arsenic and Old Lace" play review

(Story)

Nov 07, 2017
Oct 25, 2017

Treats and threats

(Media)

Oct 20, 2017

Davenport School District pushes formula bill change

(Media)

Oct 11, 2017
Oct 11, 2017
Oct 11, 2017
Oct 11, 2017
Oct 11, 2017
Oct 06, 2017

Catching the fall feels

(Media)

Oct 02, 2017
Sep 25, 2017

Meet your 2017 Homecoming Court

(Media)

Sep 25, 2017

TV Show Review: "Riverdale"-Season One

(Story)

Sep 22, 2017

Humans of West-Principal Jenni Weipert

(Media)

Aug 30, 2017

Movie Review: The Hitman's Bodyguard

(Story)

Aug 29, 2017

Administration Press Conference Q&A

(Media)

Aug 17, 2017
Aug 08, 2017
Jun 22, 2017
Jun 01, 2017
May 18, 2017
May 10, 2017
Apr 01, 2017
Dec 19, 2016

Horoscopes December 19 – 25

(Story)

Nov 28, 2016

Horoscope's November 28 – December 4

(Story)

Nov 21, 2016

Horoscopes November 21 – 27

(Story)

Nov 16, 2016

Horoscopes November 14 – 20

(Story)

Nov 09, 2016

Horoscopes November 6 – 14

(Story)

Nov 01, 2016

Horoscopes October 31 – November 6

(Story)

Oct 25, 2016

Horoscopes October 24-30

(Story)

Oct 17, 2016

Horoscope October 17 – 23

(Story)

Oct 12, 2016

Horoscopes October 10 – 16

(Story)

Oct 06, 2016

Wonderful Weekly West News- Week of Oct.3

(Media)

Oct 03, 2016

Wonderful Weekly West News- Week of Sept. 26

(Media)

Sep 26, 2016

9/26-10/2 Horoscopes

(Story)

Aug 05, 2016