Senior Spotlight: Izzy Sheumaker
What are you involved in at West?
"I'm involved in volleyball and have been involved in it since 7th grade. I didn't play last year because I wanted to take a break. I'm also involved with show choir and have been involved since sophomore year."
What has been the best part of your high school career so far?
"The best part was definitely becoming close with my friends."
If you could go anywhere right now, where would you go?
"I would go somewhere in California."
What do you want to do in the future?
"I want to major in accounting and minor in business."
If you could do anything to change the world, what would you do?
"I would end world hunger."
What is a motto that you live by?
"Honestly just live life and go with the flow, don't let little things bring you down."   
If you could have any superpower in the world, what would it be?
"I would want to fly because I could travel faster and I could just look at the town."
What motivates you to get up in the morning?
"My mom is the one that motivates because she makes me want to do well in life."
Who is your role model?
"I would have to say my two sisters because they have gone through so much in life and are still very successful."
What was cool when you were young but isn't cool now?
"Silly bands use to be cool but now they aren't, I had several."
What is something you oddly know a lot of information about?

"I know a lot of information about the Dutrac bank due to the business class that I'm in currently."
Use three words to describe yourself.
"Caring because it doesn't matter who you are, I'm always making sure people are okay. Nice because I like to give out compliments to make people smile. Goofy because I'm just a goofball."
Tell me about an embarrassing moment.
"One time when I first started my job I had to greet people and I said hi to them and I went to go on talking, but I totally freaked out and just said 'well have a good day'. My face got red, I was so embarrassed."
What movie, picture or video always makes you laugh no matter how often you watch it?
"There's a really funny video of a cat that just starts dancing when the music drops and I think it's so funny. I laugh every time I see it."
Name three items on your bucket list.
"I want to go to California, go swimming in an ocean, and honestly just live life to the fullest."
Who are your celebrity crushes?
"My celebrity crush is Ian Somerhalder."
What advice do you have for anyone in high school or coming into high school?
"I would say actually pay attention and do your work to get good grades."
About the Contributor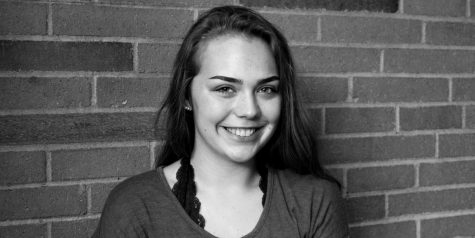 Emma Day, Reporter
Senior Emma Day is the Marketing Director for the Beak 'n' Eye newspaper staff. She posts on social media with updates on events/people, post links...