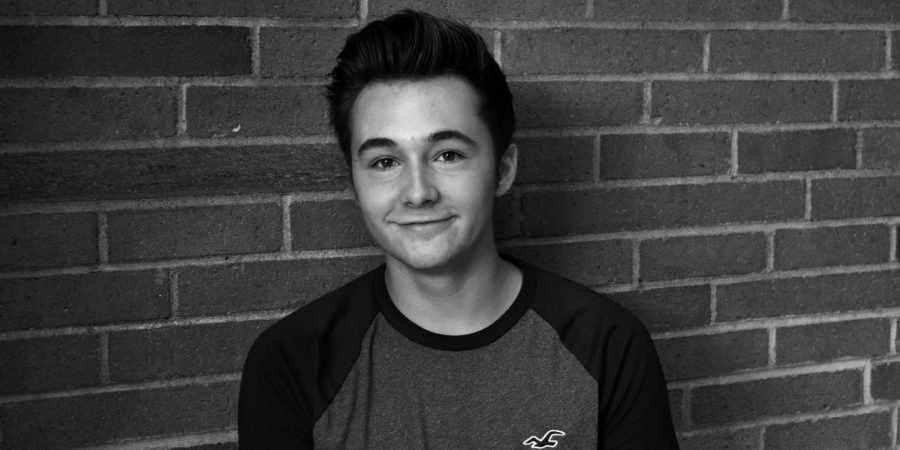 Junior Aiden Rushing is currently a reporter and graphic designer for the Beak 'n' Eye. A former prodigy in long division, baseball and spinning on his head, Aiden is a man of many talents.
Aiden has a passion for creating things. He sees himself more as a creator than creative. He has always been fascinated with things like photoshop and graphic design because it fuels a desire in him to make or build things. He expresses his artistic talents in the charts and posters he has done for the staff or fun pictures of a teacher as movie characters. This passion was so great that it eventually lead to him getting a award for his efforts.
When he is not designing artwork for the newspaper, he is reporting on stories happening around the school. Whether it be about the Speech and Debate team heading to Nationals, a teacher retiring after 38 years of teaching or just showcasing West's finest, Aiden is always giving it his all in what he does.
A man that doesn't care what you think about him or what he has to say and as cool and thick as a snail, Aiden spends his free time practicing playing his acoustic electric guitar, which is a tradition cared on by his grandfather and his father, eating sushi at Fuggis, going to the gym and spending time with his family.
Written by Joseph Potts
Aiden Rushing, Reporter
Dec 10, 2018

Senior Spotlight: Alexis Schutters

(Story)

Dec 04, 2018

Band department hosts trivia fundraiser

(Story)

Nov 20, 2018

Senior Spotlight: Kaitlyn Mays

(Story)

Oct 30, 2018

What instrument should you play?

(Story)

Oct 17, 2018

Students plan to take on Italy

(Story)

Oct 10, 2018

How would you spend twenty dollars?

(Media)

Oct 09, 2018

Which West elective should you take?

(Story)

Oct 02, 2018

First fall pep aud of the 2018-2019 year

(Story/Media)

Sep 28, 2018

Humans of West: Ryan Shelman

(Story)

Sep 17, 2018

Homecoming week recap

(Media)

Sep 04, 2018

Pre-cap of show choir season

(Media)

Sep 04, 2018

District budget reduction plan passed

(Media)

May 23, 2018

Retiree: Steve Saladino

(Story/Media)

May 21, 2018

Humans of West: Mason Boland-Lopez

(Story/Media)

May 10, 2018

Chromebook turn-in

(Story/Media)

May 02, 2018

Falcons play chess

(Story)

Apr 27, 2018

Do you know all 50 states?

(Story)

Apr 19, 2018

Humans of West: Kyle Riepe

(Story/Media)

Apr 13, 2018

Co-ed track takes on Jesse Days

(Story)

Apr 12, 2018

Humans of West: Collin Cervantes

(Story/Media)

Mar 16, 2018

STEM Innovator teachers bring innovation to the classroom

(Story)

Mar 02, 2018

Speech and Debate head to Nationals

(Story)

Feb 09, 2018

Cookie chronicles

(Story/Media)