Humans of West: Ryan Shelman
Hang on for a minute...we're trying to find some more stories you might like.
New gym teacher Ryan Shelman has been a P.E. teacher for the past seven years at West Burlington High School in southeast Iowa. Although Shelman knew that he wanted to become an educator, he thought he might want to become a history teacher rather than a P.E. teacher.
"I planned on being a teacher, I just thought maybe I would be a history teacher, but it worked out that I would be a health and physical education teacher instead," Shelman said.
Shelman does not regret becoming a P.E. teacher. He has a passion for teaching physical education and health ever since his time in the physical education program in college.
"It's just something I knew I really enjoyed as a student, so I went ahead as an educator and decided it was something I would like to do," Shelman said.
Many of the sports that Shelman played in high school and college have inspired him to coach as well as teach. Shelman plans on being an assistant coach for the boys basketball team, and he also coaches intermediate football at Walcott.
"I had a couple of great role-models as a student, and I also really liked the teachers that I had in the college program for physical education and health. I was a four-sport athlete in high school I [mainly] concentrated on football, basketball and baseball. My senior year I was a student assistant for the women's basketball program," Shelman said.

About the Writer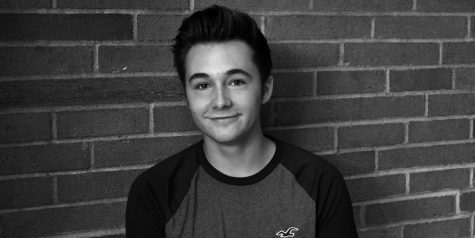 Aiden Rushing, Reporter
Junior Aiden Rushing is currently a reporter and graphic designer for the Beak 'n' Eye. A former prodigy in long division, baseball and spinning on his head, Aiden is a man of many talents.
Aiden has a passion for creating things. He sees himself more as a creator than creative. He has always been fascinated with things like photoshop and graphic design because it fuels a desire in him to make or build things. He expresses his artistic talents in the charts and posters he has done for the staff or fun pictures of a teacher as movie characters. This passion was so great that it eventually lead to him getting a award for his efforts.
When he is not designing artwork for the newspaper, he is reporting on stories happening around the school. Whether it be about the Speech and Debate team heading to Nationals, a teacher retiring after 38 years of teaching or just showcasing West's finest, Aiden is always giving it his all in what he does.
A man that doesn't care what you think about him or what he has to say and as cool and thick as a snail, Aiden spends his free time practicing playing his acoustic electric guitar, which is a tradition cared on by his grandfather and his father, eating sushi at Fuggis, going to the gym and spending time with his family.
Written by Joseph Potts