Humans of West: Shamane Serrano
Hang on for a minute...we're trying to find some more stories you might like.
How are you liking West so far?
"I love being at West. I graduated from here so it's like coming back to my old stomping grounds."
What do you like to do when you're not working?
"I like to spend a lot of time with my kids doing activities, like going to the museum and playing at the park."
What does your job entail?
"My job entails supervising students, helping staff with students and containing bad behavior throughout the hallways and school grounds."
What is your job title?
"My job title is a Gen-Ed Para/Security"
Did you always want to do this occupation? If not, what did you want to be?
"I have a background in law enforcement and I love children. I didn't always want to do this, I have stayed home for 10 years to raise my children, and I also provided a daycare in my home."
What is one thing that's on your bucket list?
"I would say to travel to a foreign country."
What is your greatest achievement?
"Being a mother and raising my children in a healthy home. Keeping them away from trouble. And being a wife for 12 years."
If you could travel anywhere in the world, where would you go?
"I would love to visit Puerto Rico or Brazil."
Where do you see yourself in 10 years?
"I really like this job so hopefully still staffed with West and taking care of children."
What are some of your favorite memories?
"My favorite memories would be going to Florida every other year and spending time with my family. We are a very close family and we tend to each other's needs when necessary."
Where are you from? Where have you lived?
"I was born and raised in Davenport, IA. and the furthest I have lived was in Moline, IL."
If you could watch one movie/TV show for the rest of your life what would you watch?
"I watch a lot of the ID channel, all day every day."
Do you have any special talents or fun facts about yourself?
"I love volleyball. I watch all sports with my husband. I can still do cartwheels and I try to stay active as possible.  My talent is that I am a computer geek and I love electronics believe it or not."
Tell me an embarrassing moment.
"I had extensions in my hair in 6th grade and I was on my way to class, I then leaned against a wall and there happened to be a nail there and it pulled it right out of my hair.  Now, remind you hair extensions were not as stable as they are now. It was very embarrassing and my friends and cousins will never let it down."

About the Contributor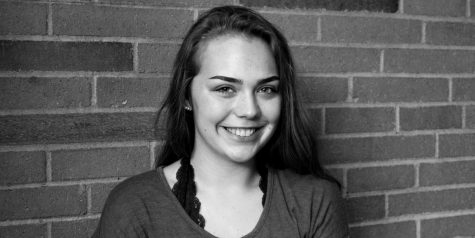 Emma Day, Marketing Director
Senior Emma Day is the Marketing Director for the Beak 'n' Eye newspaper staff. She posts on social media with updates on events/people, post links to stories and does shout outs for ads.
For the 2018-2019 year Day plans to incorporate more into her role in newspaper. Her goal is to cover smaller events and have a wider coverage.
Other than newspaper, Day enjoys to watch YouTube, hangout with her drama club and show choir friends (although she isn't involved in either) and write.
If Day could change the world in one way, she would make it a better place in general, where everyone feels respected and equal.
Day plans on attending Scott Community College in the fall of 2019 for two years to get her associate's degree. After that, she plans on transferring to the University of Iowa to get her masters in psychology as well.
After all her schooling she wants to live in Tennessee to become a Mental Health Therapist. Tennessee is Day's happy place that feels like home because she has visited since she was little.
Her dream is to have a tiny house with a white picket fence around her 1 or 2 acre yard. She plans to have dogs, ducks, pigs, and many other types of animals.
Day is also huge music addict. She listens to all types of music depending on her mood. Her selection can go from rap, to pop or bands, to 80's rock, or even musicals.
Written by Naomi Walker