Students compete in cyberpatriot competition
Cyberpatriot is a competition sponsored by the Armed Forces (mainly the Air Force) for kids who want to enjoy the field of cyber security and computer science. On Nov. 2, Dec.7, Jan.11, and Feb.8 the team will compete in computer science teacher Doyle Massey's room in room 102.
The club consists of 20 students which are put into 4 teams. The prize for the students/participants is a certificate and a nationwide recognition by the Air Force. According to Business teacher John Brosius, students can earn up to $300,000 in scholarships.
Doyle Massey says that the club will help students who do not know anything about computer science.
"I see a wide variety in the club because are goal for the club is to have students who don't have a knowledge in computer sciences. What's great about it is that we have mentors (industry people) and they train the kids on how to do cyber security. We prefer to have kids that don't know what's going on so they can learn," said Massey.
The goal is for students to secure systems and networks in order to earn the most points possible
"The purpose of Cyberpatriot is to encourage students in the career of cyber security. In the competition, the students will have to secure up different operating systems.They also have to set up and troubleshoot networks virtually and answer cyber security questions. You score points when you accomplish the task. If you do something wrong you lose points. If you end up having a tie, whoever was quicker wins," said Massey.
Brosius said that getting first place can earn you scholarships and nationwide recognition.
"There is a certificate for first place. It depends because it's a nationwide competition so there is a certificate for state but nationwide you get recognized by the Air Force nationally. There are all sorts of honors and things that you put on your resume and applications in schools that reflect that," said Brosius.
Senior Kane Greenwalt is a student that participates in the competition and wants to help a student if they need help and have fun.
"I believe that the purpose of Cyberpatriot is just to teach you how to secure your own machine because it does start off with very basic security issues. It teaches you how to protect yourself on the online and physical space. I expect everyone to work together and have fun. If one person gets stuck, you can all come together and help each other out," said Greenwalt.
About the Contributor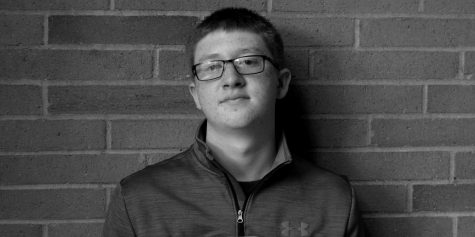 Tyler Newman, Reporter
Junior Tyler Newman is a 16 year old junior with freckles and light redish blond hair. Black, rectangle framed glasses rest on his nose magnifying his...