Decisions, decisions, decisions
Senior Spotlight: Mason Lantz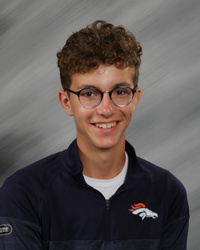 The butterfly effect is the phenomenon whereby a small localized change in a complex system can have large effects elsewhere. Life is full of decisions and some of those decisions are more life changing than others. Deciding which college to attend is a decision many people struggle with. Senior Mason Lantz is one of those people. 
Lantz recently decided that he is going to attend the University of Iowa after high school, but it wasn't an easy decision. He narrowed down his choices to the University of Kansas and the University of Iowa. Lantz had numerous reasons to attend either college. 
"[I wanted to go to Kansas because] I had family there, I've always said it was my dream school, I had a scholarship (about 48,000 dollars over four years) to go there, and the weather is nicer there than it is here," Lantz said. "[Iowa] was cheaper, it was closer to my [immediate] family, and I had my two best buds going there."
Lantz was very conflicted and kept pushing off making a decision. He finally set a date for himself for when he was going to force himself to decide. His parents helped him choose which school would be best for him.
"It's been the toughest decision I've ever had to make," Lantz said.
"[My parents] said it would be easier to come home whenever I wanted and they'd be there for anything that I needed if I went to Iowa and it'd be a lot harder to be there for me if I went to Kansas," Lantz said. 
Senior Braden Loose has known Lantz since freshman year and have been friends ever since. Loose is also planning on attending the University of Iowa and was excited when Lantz made his decision to go to Iowa. 
"We've become closer over the years. [When we first met] I thought he was cool because he was kind of quiet and he seemed like someone who was easy to get along with. He's just always been someone I could talk to," Loose said. 
Lantz and Loose's friendship can be partially credited to the golf team. Both of them have participated in golf since freshman year. Chad Wolf has been teaching at West for 23 years and is the boys' golf coach. 
"He's just a great kid. You ask him to do anything and he's there to help, good heart. We've had a lot of great kids go through West, he's one of my favorites," Wolf said. "[He's a] hard worker. [He's] not just a great golfer, just an all around great person."
Lantz will stop playing golf competitively in college, but it will always be a part of his life. As of now, Lantz is planning to major in business, but wouldn't be surprised if he changes his mind in the future. 
All decisions can be stressful, especially a life changing decision like choosing a college. Lantz is relieved about finally declaring his future school and is now eagerly waiting to start his college experience. He is looking to come out of his cocoon and transform into a butterfly during his future at the University of Iowa.