West hosts 2017 Homecoming Game
Davenport West sophomore and varsity football played the Pleasant Valley Spartans on Sept. 29.
Sophomores lost 20-6 while varsity lost 62-7.
Matt Mcbeth from PV was injured within the first 59 seconds of the sophomore game. The ambulance came to take Mcbeth to the hospital.
"It's always going to be horrible to see a player hurt on the field, it's the dangerous part of the sport that we all hope never happens," fan and former West student Nate Durant said.
Sophomore Falcons had to tie the game early from a passing touchdown from Zach Trevino to Izaiah Schaeffer-Houston. That made the score 7-6 Spartans. The Pleasant Valley Spartans would go on to win 20-6 after a stout defensive effort and good clock management from the Spartans. The sophomore Falcons have moved to a 4-2 record; they will play Dubuque Hempstead next friday night in Dubuque.
"We need to fix our mistakes we made and keep putting the puzzle together," sophomore tailback and defensive back Seve Armenta said.
Varsity was looking for their first win in three weeks. West received the opening kickoff, and went three and out. Pleasant Valley returned the punt to the 41 yard line. The Spartan's first play was a 49 yard touchdown run. The Spartans had a lead of seven, two minutes into the game. They wouldn't let up, scoring touchdowns on the Falcon defense. The most noticeable player of the game was junior wide receiver and defensive back Malik Westerfield.
"I feel like they were scared of me because when I get open field, I'm dangerous," Westerfield said.
West marching band played Wicked during the halftime show.
"Our music was pretty well memorized, we were pretty much in step," junior clarinet player Jackie Calderon said.
After the halftime show, PV would receive the opening kickoff.
DJ Mosley had caught a touchdown from quarterback Alex Hunt in the later half of the fourth quarter, leading the crowd to feel excitement.
The final score would be 62-7. West varsity is now 1-5, they will play Dubuque Hempstead next Friday.
"We know what we need to do to put West down the right path and give hope back to not only the school, but to the students, teachers, and the past alumni," Armenta said. "Also, we [football team] have a bond between us that no one can break. They're my brothers and will always be my brothers until the day I'm six feet under."
About the Contributors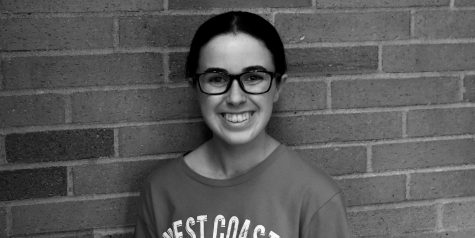 Haley Newcomb, Reporter
Haley is a junior who is returning for her second year on the Beak 'n' Eye staff at West High school. Her natural talent with writing and photography...
Brooke Netcott, Reporter
Brooke Netcott is a sophomore and it is her first year on the staff for the Beak 'n' Eye. During her free time she loves to read, spending time with...