West hosts first mobile food pantry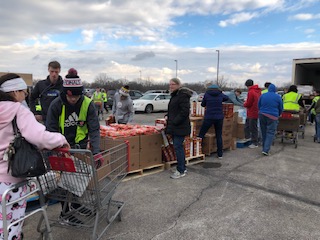 Pushing a shopping cart down a long aisle lined with fresh produce and a variety of food products may be a common activity, and even sometimes a hassle, for most people. However, a percentage of community members in the Quad Cities cannot afford this luxury, which is why the River Bend Foodbank has become such a large non-profit organization in the area. River Bend has recently begun hosting mobile food pantries in various locations around Davenport, and West just tried out the host role for the first time.
Social worker Jennifer O'Hare has had great past experiences with the River Bend food bank from West's very own food pantry in the Nest. However, O'Hare noticed there may be a broader need and wanted to open up the great benefits of a food pantry to the community around the high school. After attending a mobile food pantry put on by Rock Island High School, O'Hare realized the impact that this type of event could have on the West Davenport citizens.
"We had 190 families that we were able to serve. It was a pretty incredible experience," O'Hare said.
The massive service that the pantry was able to provide was largely thanks to volunteers from the West boys track team, who came to the rescue at the last minute to help the event run smoothly.
"The boys track team saved me. Normally River Bend gets all of the volunteers, but this time they only had one person sign up, so Coach Fox said 'we'll be there'," O'Hare said. "They were absolutely awesome and we had a huge turnout."
Coach Kyle Fox decided that the best post-meet recovery practice is the combination of a light workout and volunteering in the community.
"It's just what you do. We saw a need to help and it's something that I hope to do more often as we move forward in the season," Fox said.
Although the community members were positively impacted by the pantry, the benefits didn't stop there. Volunteers took away as much from the event as the participants did.
"I felt like I was really making a difference. I liked being able to show that you don't have to put an age limit on what you can do to help others," freshman Patrick Devine said.
The mobile food pantry will be a continuing event at West, held every third Wednesday of the month until October. This pantry is open to any Iowa or Illinois citizens who would like to register. The Falcon Nest will also continue its food pantry for West families only every other Monday or by appointment with O'Hare. The mobile food pantry will be in need of volunteers monthly, and those interested should contact O'Hare at [email protected].
"I think it's really important to be able to give back to your community and help others out whenever you can. It was great to just be able to give food to people who can't afford it or are not as fortunate as others. It was a big deal," sophomore Jackson Huffstutler said.