Unstoppable despite the obstacles
Senior Spotlight: Kyle Swanson
He is a student who always has the biggest smile on his face. He is a passionate soul who loves writing. He is an energetic young man ready to overcome the odds any minute of the day. He is a student who never lets his struggles stop him from being successful.
All of these characteristics symbolize senior Kyle Swanson, a West student who has kept his head high despite his diagnoses of attention deficit disorder (ADD), obsessive-compulsive disorder (OCD), and high-functioning autism.
Swanson grew up in Dewitt with three brothers and one sister and moved to Davenport in 2008.
Swanson enjoys spending his free time watching YouTube videos. He has his own channel, "TimeForceRanger0." His channel consists of his love for the Power Rangers as well as a vlog about life.
"I grew up watching YouTube, and I wanted to make my own. I just wanted to do it for fun. I do reviews and blogs about life, school, and things going on," Swanson said.
Aside from his love for the Power Rangers, Swanson likes to write long stories, and song lyrics for rock and metal music. He enjoys listening to Five Finger Death Punch, Slipknot, and Disturbed. He hopes to improve his writing skills, and hopefully incorporate writing into his future. Swanson wants to attend Scott Community College before heading off to a university.
Swanson doesn't let his ADD, OCD, or autism stop him from looking to the future.
"There is still hope. Even though you have the disability, physically or mentally, there's a possibility that you can still choose a career," Swanson said.
HFA (High Functioning Autism) is an autism in which people have an IQ greater than 70, states "Disabled World, Tomorrows Today."  Swanson struggles being social around other people but the kindness and respect he exudes has given him many friends.  
Computer Graphics teacher Chad Wolf thinks the world of Kyle and thinks he's really intelligent.
"Kyle is a really hard worker. The other thing I like about him is that he's got a sense of humor but it's one of those were you really have to know him to get that sense of humor. He is a really intelligent kid," Wolf said.

Art teacher Mark Sade really enjoys having him as a student and believes he has a bright future ahead.
"He's fun to be around. [He is] an energetic kid and he works hard. He always has a smile on his face, [and is] someone I could always mess with. He always tries his best and worked to his ability," Sade said. "He will be successful at what he chooses to do."
Special education teacher Greg Rios says that Swanson has opened up more than ever before, and is willing to engage with more students and adults.
"When Kyle was a freshman, he was really, really quiet. He didn't really interact with other kids. It took him a long time to be comfortable with teachers," Rios said. "Over the course of four years, he's really become way more social and willing to interact with people. He was always friendly, but he was just unsure of how to interact with people. Now he's into social media and he's putting himself out there a lot more."
About the Contributors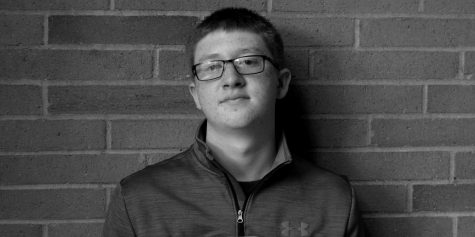 Tyler Newman, Reporter
Junior Tyler Newman is a 16 year old junior with freckles and light redish blond hair. Black, rectangle framed glasses rest on his nose magnifying his...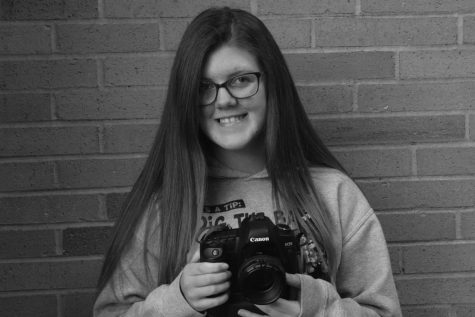 Melissa Rump, Photographer
While senior and photographer Melissa Rump may be new to the journalism world, her passion for photography has been evident for a while. Starting with...