Humans of West: Doyle Massey
Teacher Doyle Massey has a passion for tinkering with computers and enjoys sharing his technological knowledge with students through computer science courses at West.
Massey grew up in Sioux City, IA in a middle class home on the west side of the city. As a child, he occupied time by tearing apart electronics. His goal was to try and get them working again, but he never could. He was a very quiet and reserved kid until he got to high school.
During his breakout year, Massey was the head photographer for the school yearbook. He spent lots of his time on the sidelines taking pictures at football games. He eventually took a class on programming which started . Massey even created a battleship game with his friend who did graphics while Massey worked on the data.
He attended the University of Iowa from 1981 to 1986. He started off in engineering, but later switched over to computer science. He has two daughters, one goes to Mt. Vernon in Cornell and specializes in theatre and the other goes to the University of Wisconsin and is receiving a master's degree in urban development.
Massey describes himself as sarcastic and humorous, and enjoys teaching with students at West and really loves his job.
"I love the idea of working with students and helping them figure out what they want to do with life. Giving them exposure to something that they may have not known about and potentially helping them out with what they want to do is something I enjoy. I love teaching because it gives kids an experience on different potential careers," Massey said.
Massey has good advice for all students about moving forward and never giving up.
"You're going to fail, everyone does. You just gotta take that and just don't let the failure drive your life. It's going to be hard at the time. When you fail, it's gonna be hard. Try to focus instead on how to do better the next time," Massey said.
Massey carries the full theme of the movie "Meet the Robinsons" to life by saying that we all need to keep moving forward and never give up. Senior Skylar Hintze really likes Massey because she can come to him to talk to him about life.
"He is a teacher I can go to talk to if I have problems and I can sit and joke around with him, and he will joke back. I basically look forward to going to his class before first block every single day. I have a lot of fun in there," said Hintze.
Junior Brandon Schutte likes Massey because he has always made his day better.
"My favorite part about Massey is that you could be having the absolute worst day ever and he can make you laugh in some way, shape or form. When he wants to tell you something, he tells you plain and bluntly," Schutte said.
About the Contributor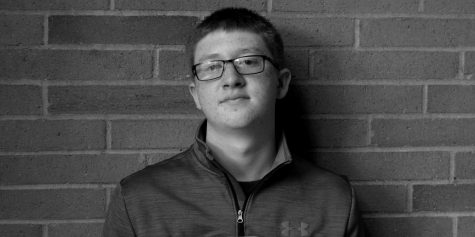 Tyler Newman, Reporter
Junior Tyler Newman is a 16 year old junior with freckles and light redish blond hair. Black, rectangle framed glasses rest on his nose magnifying his...