Ex-gymnast takes over the world of diving
Sophomore Tiana Negron has gone 11-0 at all diving competitions she has participated in so far this season.
Negron started her diving career in eighth grade when she moved schools. Originally a gymnast, she made the switch to diving primarily for financial reasons.
"I miss it a lot and want to go back to gymnastics, but because of the amount of money, diving is a better alternative for me," Negron said.
Her background in gymnastics has gives Negron an edge in diving. Many of the skills she learned as a gymnast can be applied to her diving performances.
"Diving and gymnastics are basically the same thing, diving just uses a board instead of a floor," Negron said.
Even though skills learned in gymnastics help her with her diving, jumping off a board and into 12 feet of water was all new to her.
"I was terrified, it was very scary. It took about a month and a half to get used to it. Once you get over the fear of hitting the water and hitting the board it gets a lot easier," Negron said.
Negron has made many accomplishments this year in her diving including beating her personal best, currently 390 points, three times
Negron and her close friend freshman Ella Heath dive together and both qualified for state recently.
"I've gotten second place every time to [Tiana]. It was just us in the top spots at every competition," Heath said.
When the news came out that they qualified for state, the two were overjoyed. Negron missed the mark last year by a very small amount of points and this year finally is able to show what she's got.
"Last year I missed getting to state by .4 points so this year is a comeback for me," Negron said.
The most dives that an athlete can participate in at state is 11 and Negron is hoping to get past eight at least. After state, Negron hopes to further the level of difficulty in of her dives and come back next year as an even better diver. Some dives she is hoping to learn next year are a reverse one and a hlaf , back double, and the two and a half twist.
"Next year I'd like to have a higher degree of difficulty in my dives.They go from .01 to .1 difficulty and I want to get into around the .3 range next year," Negron said.
About the Contributor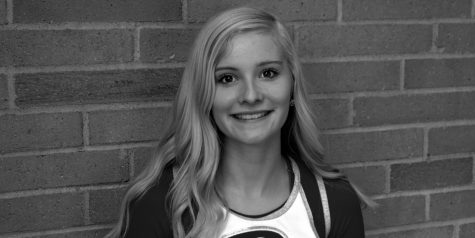 Mackenzi Burns, Reporter
Mackenzi Burns is a junior and reporter for the Beak 'n' Eye. She is also on the cheer team and enjoys going to sports events for West. In her free time...