Pushing boundaries and making a change
Senior Spotlight: Alexa Christiansen
Alexa Christiansen is a student that may just break the record for most hours existing within the walls of West. An average week for Christiansen consists of walking to school at 6:35 a.m. for early-bird some days and staying after school until 8:30 p.m. for Robotics on others. Even when not on a schedule, Christiansen will inevitably be early or staying later for a wide variety of reasons.
"Perhaps a few hours more of sleep would be beneficial," Christiansen said.
However, she would not change a thing.
Involvements at West
Christiansen's involvements at West has amounted to her current accomplishments— and there are many of them. Whether it be taking A.P. Art twice or becoming the Project Manager of West's FRC Robotics team, Disruptive Innovation, she has met and soared above the standards of many obligations. Though, her roots can be traced back to her earliest involvement in a STEM course.
"My freshman year I was in the first all-girls Introduction to Engineering and Design course in the INSPIRE program. It sparked my interest in engineering," Christiansen said.
One of Christiansen's peers from the all-girls engineering course, senior Piper Hein, describes the ceaseless impact Christiansen has made in her life.

"She has impacted me greatly. I have to really appreciate her for that. I wouldn't be where I am today in Engineering Design and Development [INSPIRE's engineering capstone course] because she has pushed me to want to dive deeper into the engineering field and be there for other people that need help," Hein said. "I couldn't imagine not having a friendship with her."
Christiansen soon found herself joining West's Robotics teams, The Combustible Lemons [FIRST Tech Competition] and Disruptive Innovation [FIRST Robotics Competition] her sophomore year. Both teams would later move on to becoming world champions.
FRC Robotics team member and senior Kane Greenwalt values the thoughtful advice provided by Christiansen throughout the years that he has known her.
"Honestly, no matter what life tries to hit you with, she's taught me to just stay positive. She's been through a lot, and still stays positive about everything," Greenwalt said.
During her junior year, Christiansen remained on the Combustible Lemons Robotics team, but shifted her focus more towards Disruptive Innovation. Her deliberations followed through, as she was recognized as a state champion of the Dean's List Award later that school year. Christiansen then found herself attending the World Championships for FRC. 
"I learned how to be a leader from many of these experiences. I've learned technical skills. I've learned the skills I've needed to get my job," Christiansen said.
Aside from Robotics, Christiansen is an ambassador for West's Youth Voice Council and participates in the Art Club.
Career and plans for further education
Christiansen is a computer-aided drafter at Deck Supply Services. Utilizing large amounts of math, she designs deck rails in computer-aided drafting software. Last year, she was working upwards of twenty hours a week. After needing to find a balance of school and work, Christiansen now works closer to ten to fifteen hours.
"I'm trying to live my best life. But when I am home, and I'm not at work, I don't have a whole lot of stuff to do. My boyfriend and I watch Sunday night football, and I hang out with my dog and his dog. It's really nice," Christiansen said.
Christiansen plans on pursuing mechanical engineering and design after high school. She has already applied to two colleges: Massachusetts Institute of Technology and the University of Iowa. Though she admits the chances of her admission to MIT are slim, Christiansen surely has another home after high school waiting for her.
"Thankfully the University of Iowa has accepted me. When I go there, I am going to be rooming with one of my best friends for two years. My dog will also be living with me because we will be getting an apartment."
Life as a leader
Christiansen epitomizes the role of a leader. Her titles stand as a Project Manager for an FRC and FTC Robotics team and Sustainability Lead of INSPIRE's InvenTeam. Although all of her efforts do not require a title, Christiansen often takes the lead role in many of her classes. Though, her demeanor remains deferential.
"When you're young you always think 'Oh, man, someone needs to take charge of us. I don't know what's going on'. But as you get older and you stay more involved in things, you realize that the people who were leaders have moved on to others things in their life," Christiansen said. "This may mean graduating high school or growing out of a club. So, you may have to step in and take that role, or otherwise things will not run smoothly and you won't get anything done."
Learning to become a leader is a process, and Christiansen undoubtedly agrees. Throughout her four years at West, she has looked up to many leaders. However, her idea of a good one has always remained the same.
"
A good leader is someone who has the ability to do all of the jobs on a team moderately well. They listen, are empathetic, and have the confidence to say, 'Everything is going to be all right', even when they have no idea how things are going to end up.
— Alexa Christiansen
For every good leader, there is always another one before them. Christiansen devotes a majority of the experience that she has acquired to Robotics coach Jason Franzenburg.
"I've learned a lot of lessons of life from him. He's definitely a coach at heart, so if you mess up, he will chew you out.  He's also going to teach you how to make things better and you will become a better person for it," Christiansen said.
Thoughtful advice
Christiansen acquires a short set of advice for her fellow peers and friends. Most everyone who knows her would agree that it is concise, but valuable.  
"If I had to give advice to any teenager in high school, it would be one from one of my favorite movies growing up, 'Meet the Robinsons.' 'Keep moving forward'. Things are always going to get really tough. It's either going to be a test subject that you hate, or a research paper that is due a week earlier than you expected it to be due, or something terrible going on at home, or just something bad. But what you got to do is take a deep breath, let it out, and do your best to keep moving forward," Christiansen said. "Will you make progress going forward? You don't know that. You're going to try to, and you're going to try your best, but you don't know how it is going to end up. As long as you keep the mentality of 'keep moving forward, keep pushing to the next thing', you're going to do great things."
Through hardships and combating the odd-balls of life, Christensen has learned to become grateful for her experiences.
"I can do amazing things if I apply myself. I want people whose life I am lucky enough to be in to see that it doesn't matter where you come from or what you're going through, you can always do amazing things and beat the odds," Christiansen said.
About the Contributor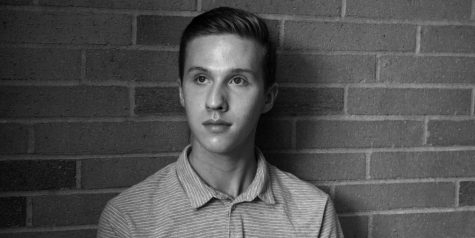 Zak Keel, Reporter
Zak Keel is a senior who has done work in student activism, engineering, and looks forward to his work as a first year staffer on the Beak 'n' Eye.

Keel...