A student today, teacher tomorrow
Senior Spotlight: Noah Hensley
For senior Noah Hensley, the journey of self-discovery has not been an easy path. Despite facing many obstacles throughout his 17 years of life, Hensley continues to remain open-minded, as well as a person of sound character.
Growing up in Davenport, Hensley attended Williams Intermediate. Derived from his middle school years, an intense passion for education has always had a strong presence in Hensley. This confounded love made itself apparent when Hensley took AP Government during his junior year. It was within the propaganda-covered walls of room 209 when Hensley's subconscious steered him towards a career in social science. Besides the class enhancing his liking to politics, another impacting factor to this career decision was his government teacher Dianna Perez.
"Mrs. Perez inspired me to become a teacher, especially a government teacher because  I've always loved government and how it works. I think it's so important, especially since so many people don't think the same, and that gets me excited to make it important to them," Hensley said. "[Perez] didn't need to say anything, I just took what she said and ran with it."
After graduation, Hensley plans to attend the University of Northern Iowa to major in secondary social science education. Emphasizing the importance of political attentiveness is a vital component of teaching Hensley wishes to pass onto his future students.
"I wish to leave the impact that government matters, and that everyone has a voice that deserves to be heard, especially nowadays," Hensley said.
Aside from Perez, another highly influential person in Hensley's life is his older sister. Being a teacher, Hensley wishes to follow in her footsteps of her profession, but also her human nature.
"She taught me to be more friendly and to always stay true to who I am and to not conform to how people want or expect me to be," Hensley said.
Hensley came out to his friends and family while he was in seventh grade, and having the support of his sister was extremely helpful to him during that time.
"I sort of lost track of who I was trying to please others. It was just a rough time, and my sister was there to pick me up and tell me to stay true to who was and not mold myself to other people because it was so hard after I came out," Hensley said.
Hensley's battle with self-acceptance has been marked with many wins and losses. Although it took a long time, Hensley has learned that loving oneself is of utmost importance.
"Besides coming out, being and loving myself is my greatest struggle. I still struggle with who I am, but I believe everyone will find themself eventually, even if I can't say when,"
Even though he is only 17 years old, Hensley looks at the world through the lenses of an old soul. After being treated differently by others due to his sexual orientation, Hensley still keeps an astoundingly mature perspective towards humankind.
"You can't always change people's minds once they've been set. So if someone doesn't like me, I can't help that. It's the sad truth," Hensley said. "People will still objectify you in some way, and you have to learn to move past that, as well as understand that everyone is entitled to their own opinion." 
Maintaining a respectful attitude towards others has resonated in the people who surround Hensley. Among these people is fellow senior Mia Nelson, who also took AP government.
"He is just a ray of sunshine, and seeing him makes everyday so much better," Nelson said.
Physics teacher Ian McCloud has Hensley as a student and thoroughly enjoys his presence in the classroom.
"Noah is the type of student that is always cheerful and brings joy to the classroom as a person, but also to the people around him. He also works hard and asks a lot of questions, so he is not only enjoying the experience of the education on the academic level, but on the social level as well, which is the perfect mix of a student," McCloud said.
Subsequently, after a long struggle with acceptance from himself and others, Hensley has chosen to live a life dictated by what he personally deems to be important. While many others may have given up along the way, Hensley has shown remarkable resilience and still holds an optimistic outlook on the world around him.
About the Contributor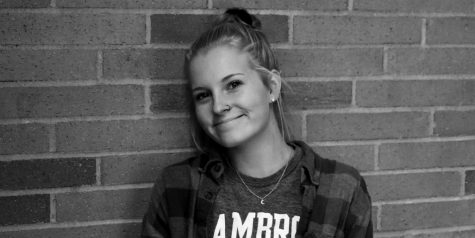 Dani Reitz, Co-Managing Editor
Dani Reitz is a senior and voice editor for the Beak 'n' Eye. As one who is fascinated by literature and language, journalism is a perfect fit for...