Theatrical outlook
Falcon Theatre shares their vision for the year
Theater is an activity which has been around since 6th century B.C. when a greek man by the name of Thespis (hence thespian), first took to the stage. Flash forward to the present day where theater is a widely known and enjoyed concept with new and old productions alike being created and put on by the next generation of thespians. This new generation includes the members of our very own Falcon Theatre.
"We are always looking to get more people involved with theater and right now we have three main productions which we do throughout the year. These are the fall play, the 10-minute play festival and the spring musical. We [the drama club] work hard to make these the best shows possible so that the audience can come and have as much fun as the actors have on stage," Drama Director Nic Anderson said.
To some, theater is just a place for people to dress up and be people they aren't. However, to others it as an art that calls for dedication and also the ability to enjoy what they are doing on stage. Like most groups, the drama club is aiming for some goals this year.
"I did set three goals for our drama club this year. The first being that I want to have $10,000 in the club's funds for future productions. I would also like to see at least 45 to 50 kids in our drama club by the end of the school year. I also wanted to better our organization and time management then what we've had in the past," Drama Club President Robert Greeve said.
Greeve's goals for the club seem likely with a reported high number of new recruits and the club doing a Shakespearean play, those of which are free to put on. However, Greeve isn't the only one who is looking forward to this year's festivities.
"I am really looking forward to everything that we are doing this year, honestly. I think this will be a really good year for us, it will be so well organized. I just think it will be really fun for everyone," Drama Club Historian Cailin Prunchak said.
With the heads of drama club looking forward to this year, one can only wonder what types of people will be on stage for their benefit.
"I am looking for people who are mature, this is a big show and a tragedy, so I am looking for a mature actor who has taken on various roles. So I am looking for somebody that can play the both comedic and tragic nature of this show because flexibility is important. Anyone can audition of course, I don't have set actors in mind for these roles going into it. Although I am looking for people who I believe will work together well on stage, so when it comes to casting I want to make sure that individuals can work well with one another," Anderson said.
Hearing this, people could assume that these actors will work together in any situation because of the bonds they have formed, but these bonds don't just happen overnight.
"We [drama club] have gotten closer and closer through these past years and we always welcome new people into our family because that is what this is, a family. This year especially I think we will grow even more as a family and develop a lot and definitely just have fun together," Prunchak said.
Even though some of the members have known each other for years, people are always welcome to just jump right in and form some bonds of their own. Although people may wonder how exactly you become part of this family.
"Drama club meets every Tuesday in the auditorium after school and the meetings are relatively short, only about 30 to 45 minutes. We are always looking for new members and hope that they will enjoy some of the fun things we have planned this year, such as the murder mysteries and movie nights. So feel free to come and join in our fun," Greeve said.
About the Contributor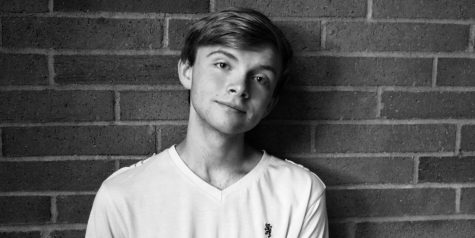 Zack Misner, Co-Managing Editor
Nine times out of ten, you can find Beak 'n' Eye Managing Editor Zack Misner with his nose in a book. His love of reading and writing makes him a perfect...