Modern Shakespeare
Falcon theatre modernizes Shakespeare's work
Hang on for a minute...we're trying to find some more stories you might like.
One might know the tale of the forbidden love of Romeo and Juliet, a tale filled with bloodshed, banishment, poison and (spoiler alert) the death of the Veronian lovers themselves. That was a tale spun by the famous author William Shakespeare, a man whose tales are still told today by teachers in classrooms and performers on stage. One couldsay that the tale's language is outdated, so it might peak the interest of those who wonder what it would be like in today's language. That peaked interest is exactly what the Falcon Theatre hopes to obtain with their adapted version of Romeo and Juliet.
"Adapted, or at least in our purposes, means that we are taking the language used within Romeo and Juliet and turning it into a more modern version of the language. Words such as 'thy' 'thou' and 'doth' and making the language more modern so that it can be understood by all audiences," theatre director Nic Anderson said.
With the target audience of West's theatre program being the students, a modern language might grab their attention more than the aged and confusing language of old. Although people might wonder, how does one go about modernizing it?
"Luckily I've read a lot of Shakespeare so I can a lot of the writing, which most people don't get while reading it. [Shakespeare] was actually quite creative with his wordplay throughout his writings and that is something that I take into account with writing the adapted version. Right at the beginning of the play they are talking about drawing their swords, so one of the things I wanted to play on was 'draw,' which in a different meaning would be drawing with a pencil or crayon. So I still am trying to keep the wordplay going in the adapted version," Anderson said.
Hearing this people might still wonder what exactly he wrote in this instance, and Drama Club President and senior Robert Greeve can answer.
"All of the names of the characters and places will be staying the same, but instead of using words like thy and thou, we will be using what you could call slang terms. For example one of the lines in [the play]  is 'Oh you drawing now? You got a pencil?'. We are using play on words and language better suited for kids and adults who might not understand the way it was written at first. Although we are hoping to appeal to the younger audience more so," Greeve said.
This gives those curious souls a simple glance at the more modern version of Romeo and Juliet and a preview of the play itself. Overall the members of Drama Club are looking forward to this modernized tale.
"With Anderson writing [the play] and making it modernized, I think it will be a lot more interesting to watch. I think that once we have it completely organized, it will be a lot of fun for the cast and the audience alike. I am so excited to see what people will think of it, because I know it will positive," Drama Club Historian Cailin Prunchak exclaimed.

Hang on for a minute...we're trying to find some more stories you might like.
About the Contributor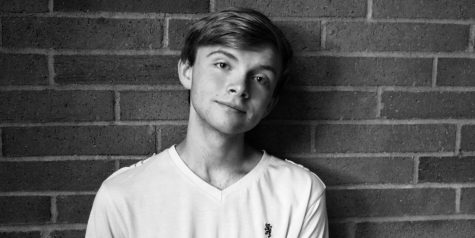 Zack Misner, Features Editor
Nine times out of ten, you can find Beak 'n' Eye Features Editor Zack Misner with his nose in a book. His love of reading and writing makes him a perfect addition to the Beak 'n' Eye staff.
Other than newspaper, Misner is involved in Drama Club and Comedy Sportz. He enjoys the creativity of this experience.
As Features Editor, Misner is responsible for helping other staffers form unique and interesting articles for the print issues and website. He is looking forward to writing for WHSToday's Humans of West and Senior Spotlight sections.
Written by Emma Bernick