Getting loud
Social studies department makes noise for the hunger drive
The performance of a lifetime by Baldry's Big Brass Band is happening right here in our very own West High School, during passing time in the social studies hallway. A beautiful concert of chaotic noise fills the upstairs, all for a good cause. 
Encouraging participation in the student hunger drive, social studies teachers gather together with various instruments to play some inspiring, yet jumbled, music. So far this year, they've raised around one hundred and sixty dollars. 
Steve Baldry, who is the head of the social studies department and the namesake of the band, said that the department raised over six hundred dollars one year. He remarked that the department is always full of fun, stating, "[W]e just were kinda teasing about collecting change one day…and I said 'we need to have instruments.' We decided to bring instruments after that."
The band's members do vary day by day depending on who's busy and who's there, but according to Baldry: Baldry is on the ukulele, Mr. Flaherty is on the bongos, Mr. Cousins is on the tambourine and maraca, Mrs. Coyne Logan is on the washboard, and Mrs. Bertelsen sometimes joins with a cowbell. However, the social studies department has two new teachers this year who have both joined, John Nikolopoulos and Steve Gamet, and both play the trombone. The two completely change the game with their actual musical ability. 
"I played [instruments] when I was in high school, I played tuba and sousaphone, But, this is probably a little bit easier to bring to school than one of those big ones," Gamet said, also adding that he is glad to be included. "This is awesome, It's a lot of fun."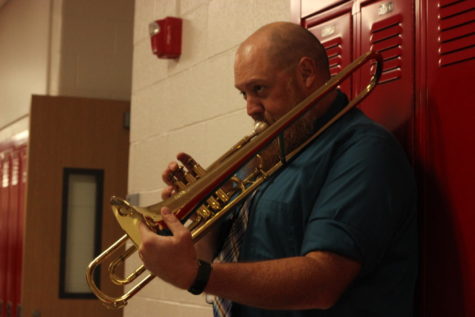 Although the band is currently teachers only, it's the students that have to deal with the noise when switching classes. Senior James Hepler is a part of West's official band and is glad to hear it. 
"Their musical talent is so good," Hepler said jokingly. "But, in all seriousness, though, I do think it's just something fun to do to raise awareness, and to help get more tips while doing something fun…I think it's for a good cause."