Going Green
The Ecology club partnered with Living Lands and Waters for tree bagging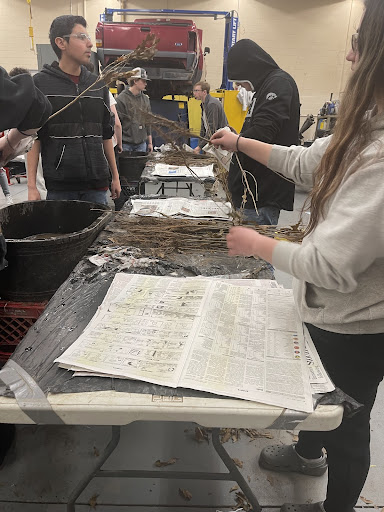 Living Lands and Waters partnered with West´s Ecology Club on the 24th and 25th of May to do tree bagging. LLW´s mission is to create an opportunity for citizens to take an active role in helping to make a cleaner river environment. They brought down students from shop, science, and social studies classes to bag trees. Living Lands and Waters has tree farms and this is preparing the trees to be donated into the community for planting. 
This opportunity is a great way to inform students about ways they can help the community and make an impact on the environment. Tree bagging took place in the auto room, and classes switched out every block. Ecology club students could also come down during the day and participate.
¨They gave us these saplings and then we had to wrap them in newspaper and then dunk them in water and tie it in a bag,¨ freshman Ava Wright said.
Ecology club welcomes anyone who wants to join and they usually meet during fifth block. Ecology club is a great way to meet new people who also care about the environment. 
¨I think other people should join because it's really relaxing and you get to hang out with friends. During fifth block we get together and we put seeds in pots,¨ sophomore Sidney Shaffer said.
Ecology club members gain special skills that many high school students don't have.
¨My favorite thing we have done is propagating (that's when you take parts of a plant to plant them elsewhere) and just generally touching up and caring for them,¨ sophomore Vy Nguyen said.
The ecology club uses the greenhouse when it gets warm outside. Ecology club students grow vegetables like tomatoes and lettuce in the greenhouse. 
¨I've learned about different plant needs and methods for growth, like Arnold's hydroponics system over his fish tank that grew the lettuce we now have in the greenhouse¨ sophomore Lanora Sprague said.
They also just learn about how to make the environment a better place overall. All the students there are interested in bettering the environment and cleaning up the planet.
¨My favorite thing we have done is picking up trash because it's great to look after the planet,¨ junior Cheranya Coppage said.
If you want to learn more about plants, meet new people, or get to use the greenhouse  email Mr. Arnold. You don't need any prior knowledge before joining Ecology club. 
¨We discuss what plants we have that are doing well and which ones need to be repotted or moved to the greenhouse. We work on repotting plants that are outgrowing their pots into bigger ones and making plans of which plants to start for our plant sales,¨ senior Elise Nelson said.