Students adjust to enforcement of only drawstring backpacks in class
Students are finding it difficult to adjust to the  newly enforced  backpack rule which prohibits large backpacks in the classroom. 
Many students have been having trouble carrying textbooks they will need for class in the small bags they are allowed, and when they go to their locker to get the textbook they need, it makes them late for class. There are four blocks, and for most students that means four textbooks to have to carry just so they won't be late to class.
Some students have complained because the bags are too small and they are too tall for them. Other students started a petition, that almost a thousand people have signed. Other students have even bought different bags, other than drawstring bags, and regular bags, which are bigger and take up even more space. All in all, many students are not happy about this rule.
The rule states that no backpack, other than a drawstring is allowed in the classroom. You can bring your regular bag to school, but it must stay in your locker until the end of the day. If you need something that doesn't fit in your drawstring bag you are to go to locker and get it. If you bring a regular bag into the classroom you will be told to take it to your locker.
"I really strongly disagree with the new backpack rule," said freshman Kyaira Kimball.  "I have seven classes; that's a lot of stuff to carry around and I don't always have time to go to my locker, and barely have enough room in a drawstring bag for all of it. It would be much easier to just carry a regular backpack."
Another student said she dislikes the drawstring bags. "I think it's really not smart how we can't have normal backpacks because drawstring bags can't hold all of the school supplies we need," freshman Ashley Whitehead said. "They are uncomfortable, they cut into your shoulder when they are heavy, and if you're a bigger or taller person, they are almost always too small for your body." 
The administration has chosen to enforce the rule for safety reasons, according to freshmen associate principal Adam Pagett. "It comes down to a matter of safety," he said.  "For our security team, it's much easier to see shapes and outlines in a drawstring bag."  
He added that it is a challenge to keep a such large building secure. "If a student truly wants to bring in a weapon, it's going to be very difficult to make sure that that weapon does not get in, but as the same time, any steps that we can  take to make sure that the safeness is what's best for everyone, then we definitely need to do it."
Pagett said the backpack rule is not new: it has been in the student handbook for approximately seven years. "Any new rule will have some challenges with it, but the new backpack rule is set in stone."
"We are getting positive feedback from the teachers," he added, because they did not like how large backpacks cluttered the aisles.
How the two sizes compare: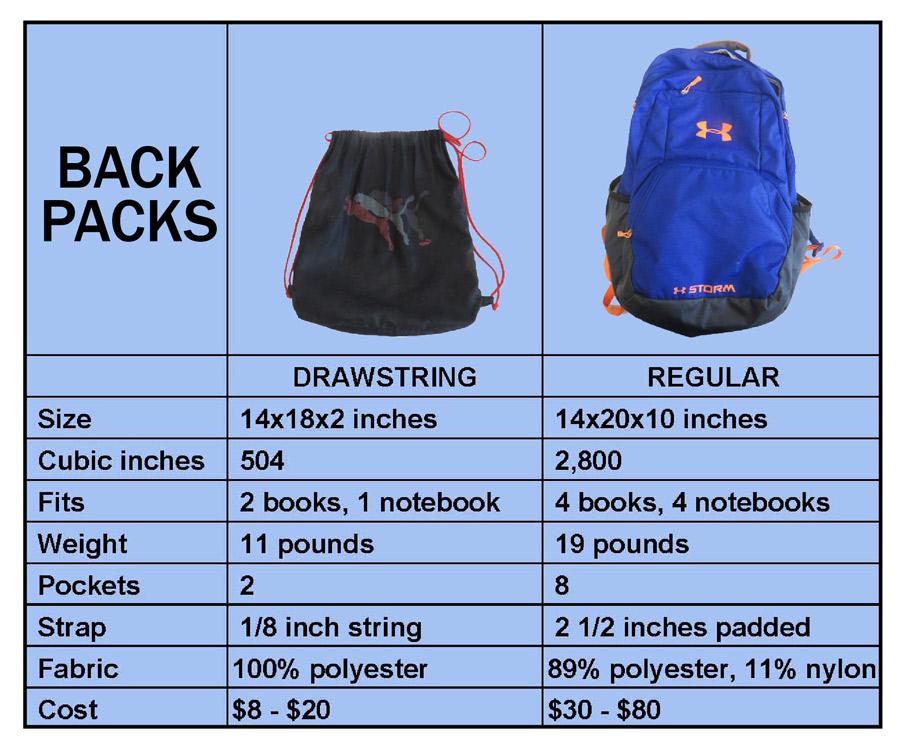 photos by Ariana Pizano