Dedication Goes a Long Way
West High Student Talks about her Favorite Parts of Being Involved in the School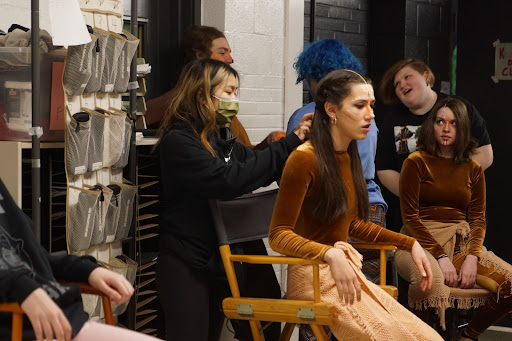 Upperclassmen always tell you to get involved in the school but how do people manage it all? Senior Izzy Martinez took the advice of those upperclassmen and became very involved and does not regret it. Show choir, chamber choir, band, marching band, National Honor Society, Ecology Club, golf and theater. These are just some of the activities that Martinez is involved in here.
While being involved in so much, she has met her closest friends, and she loves having them in her after school activities and in her classes. Out of her activities she likes to be a student and go to football games and be loud in the student section with her friends. Her favorite memories are her senior homecoming and show choir competitions.
"I have a calendar app that gives me reminders of what I have to do each day, whether it's rehearsal, or homework that's due, or paper that's due. I try to manage my time the best I can," said Martinez.
Being involved in many activities can be very overwhelming to manage and time consuming. Although doing all of these activities can open you up to meeting many new people.
"I really like to be involved in activities that bring in a variety of different people. And I also really enjoy performing with my friends in different activities," Martinez said.
Involving herself in a wide variety of activities, Martinez has been able to meet many different people. She has gotten to make a lot of friends and make an impact on even more students.
"I think she's a very charismatic person. She's got a very magnetic personality. She's very involved where she's able to take that magnetic charismatic personality and, you know, touch a lot of people with that," theater director Mr. Zelnio said.
On top of all extracurricular activities Martinez is also involved in honors and AP classes. She is very dedicated to her studies as well and has a near perfect GPA.
"She is very dedicated to everything that she does. She puts all her effort into it. She's very, very smart. She's like the smartest person I know. She also tries new things all the time and even if she's not 100% like great off the bat she works so hard and puts all this effort into it to become good and get better at it," senior Paige Sinksen said.
Martinez puts her all into everything she does and many people recognize that. She has gone from being in the ensemble to having a bigger role. This fall she is playing the role of the lead's ex-girlfriend in the school play.
"She is a wonderful student to have the opportunity to work with. She's very professional. She's got a really nice sense of balance between having a good time and getting a lot done which I appreciate about her. She definitely knows how to step up as a leader when it is necessary. Yeah, very fun person to work with," Zelnio said.
Martinez has always thought about being in the school's theater program when she was in high school. She was in the junior theater program when she was little and always enjoyed it.
"I started I was going to originally do theater my freshman year, and then COVID happened. So it kind of canceled all that. But then I really started getting involved with the musical which was Addams Family my sophomore year. And since then, I've just been young Nala in the Lion King, and then I decided to play this year," said Martinez
The play Figments will be showing December 2-4th here in the West High Auditorium.
"I'm really excited to focus on just my acting, previously I've only been in musicals so it's been acting, singing and dancing, but in the play I can really focus on improving myself as an actor," Martinez said.