Starting off Strong
Class of 2025 overcomes challenges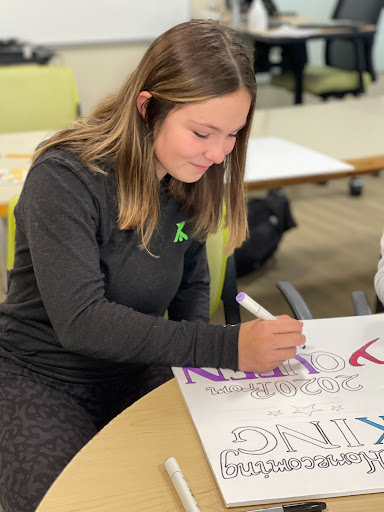 Busy hallways, long classes, piles of homework; we all know how overwhelming freshman year of high school can be. The class of 2025 went into the school year a little unsure and behind after spending a large percent of the previous year online. Eighth grade is typically the time to prepare for harder classes and switching schools, but instead students had to focus on learning how to use Zoom and passing their classes online. Some of the freshmen have had a hard time adjusting to all the changes and finding their way around the school.
The teachers have worked hard to help catch the freshman up after some of their classes were cut short. Last year there was less time in each term, so the teachers couldn't cover everything they usually do. Instead of starting classes right away, they are having to go back and review things they missed.
"There's a definite change in behavior from not being in a building for so long. One of the things we have been doing to help is talking about expectations of the classroom and hallways," science teacher Jason Hensel said.
The beginning of the school year is always a little hectic. Having to change student's schedules and adjusting to everyone's new classes can often get confusing. One of the staff's main goals is to keep people out of the hallways and into their classrooms. This year has proved to be more challenging than previous ones.
"It has not been a normal start to a school year. It has been one of the busiest starts to a school year, but we can't blame that all on the freshman."
One of the toughest parts of high school is moving to a new building. Sometimes it can be intimidating for students to have only a few minutes during passing time to find their classroom. Freshman Gabby Fix shared that after the first week it became muscle memory and she knows where she's going now. Even though they are finding their classes quickly, moving schools is still a big change for some students.
"I was at the same school since kindergarten, so switching schools is hard for me," Freshman Dakota Clare said.
Another big change freshmen are dealing with are their schedules. In middle school, students have seven classes every term, 45 minutes each. However, at West there are only four classes each term. Some students prefer only focusing on four classes at a time and say it's easier to get their work done.
"The biggest change from middle school to high school is the longer classes. It can be hard to focus for that long," Fix said.
Teachers try to get to know all the incoming freshmen in order to connect and push them in the right direction. The adults in the building try to encourage the incoming freshman to meet new people and try new things while at West.
¨You can definitely tell which freshmen have not been in school or in a building.  We are handling it one student at a time because we don't know them yet," Principal Cory Williams said.
Over the summer there is typically a freshman orientation where new students can come, get used to the school and meet their teachers. During this they can also find their lockers and classrooms. Williams has plans to help any freshman who still need guidance or have any questions. 
"We are planning to do class meetings with the freshmen. We are going to bring them all to the auditorium and have targeted meetings with them," Williams said.
Even though school has only been in session for a few weeks, students are already starting to develop study habits. Some students find balancing school work and their fall sport challenging at times. Arrianna Plies is a freshman and on the dance team. She has a system down to keep herself organized and productive.
"One thing I do to stay focused is to plan ahead and know what I need to do during the week," Plies said
Another challenge freshmen have to overcome is meeting new people. In high school there are a lot of group projects and presentations students have to work together on. Freshman Torrin Heritage feels communication with her teachers is key.
"One thing I've done to stay on top of my work is asking the teachers questions and making sure I understand before leaving the classroom. Also writing down everything I think is important and using my pens to keep my notes neat," Heritage said
The year has just started and the freshmen are already starting to make new memories and friendships. Heritage said she recommends trying new things and getting involved even if you're unsure.
"Something I love about the West is the people. Everyone I have met has been so awesome and helpful."