Creative minds
Do you want to learn how to airbrush, use a ceramic wheel, or use the dark room? Art club has started back up and they are doing all of those things. There's usually three different art teachers there to teach everyone or supervise. Some days are free days where you can come and work on whatever you want and some days they have planned projects. 
This is also a good opportunity to make new friends who are interested in art. About a dozen kids come right now, but there is room for many more. They just recently started back up because of Covid restrictions.
"It started up about a month ago when we finally got the clearance we could start doing things with kids. At first because of Covid we couldn't have it at all, but now you just wear a mask while you're there," art teacher Chad Wolf said. 
Art club has changed from past years. There's a few new teachers and there's one art club not two.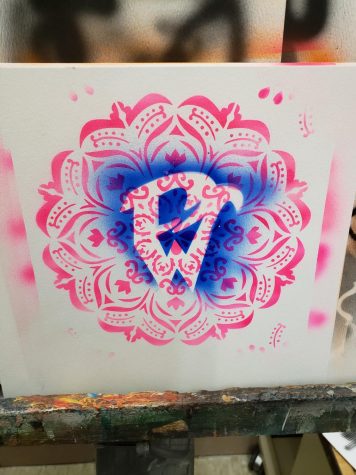 "A couple years ago we had two. We had a traditional art club and a digital one. Last year we just had a digital one, but it just slowly started losing interest because I don't think we did enough projects," Wolf said.
Not only students are welcome to come. They recommend teachers join too because everyone can have fun and benefit from it. Freshman Blake Hunter has gone twice now and recommends others come, too.
"I go to art club because it's fun and I like what they are doing in there. My favorite thing we've done is definitely airbrushing. Others should come because it's free and you do fun stuff there," Hunter said.
If you're in an art class and have questions about assignments you could work on it there, too. This time could be used to improve your grade or to just have fun.
"We've been trying to do a bunch of different things like stuff that's offered in art classes but also things that might not be. Give kids the opportunity to do things they don't normally get to do," Wolf said.
The projects they plan are fun for everyone. They are doing a variety of different art projects every few weeks.
"We did airbrushing and just recently did the ceramic wheel, those have been the two big things we've done. We're going to try to do something with the dark room and we're going to do some resin work," Wolf said
Junior Riley Erwin has attended art club a few times and enjoyed it. She thinks there's lots of different pros from partaking.
"You can do all kinds of art stuff there. If you want to try something else you can try it or you can learn new things. We did airbrushing the first week and that was pretty fun. I got to do the Hawkeye symbol," Erwin said.
Art club is being prioritized this year by the staff. Staff and students at West know how important it is to have a safe space for kids to be creative. Everyone is welcome to come join them on projects or work on their own stuff.
"Now we've got a few new teachers here and they're pushing more to have an art club which I think is great. It's a cool opportunity to get to work with kids," Wolf said.
Junior Rachel Wildemuth attends because she likes to draw. She enjoyed doing ceramics and will be going back soon.
"I like going because you get quiet time and you don't usually get that at your house. You can just draw for like an hour or two," Wildemuth said.
Art is a necessary thing to have in school. According to Inkster.com, art can help get rid of stress, develop motor skills, and emotional growth. It's very important to have art classes available in grades K-12 because it helps develop creative problem solving we can use in our day to day lives. That is why everyone should come to the art club every Thursday after school until 5:30. It's free and they meet in room 121.
"Art is a great subject and a release for the kids. There's a lot of great careers and if you could be a creative thinker you could go a long way in any career really," Wolf said.