Who is Freddie the Falcon?
A look inside the life of West's mascot
What would a school be without their mascot? What would the University of Iowa be without Herkey? Or Frosted-Flakes without Tony the Tiger? Perhaps most importantly, what would be Davenport West High School be without Freddie the Falcon?
Davenport West is home of the Falcons, or more specifically Freddie the Falcon, the school mascot. Maybe you have seen him hyping up fans at football games, jamming with the marching band, or roaming the halls (if you're lucky). Wherever he is seen, he is sure to be embodying the spirit of Davenport West with high energy and flapping wings.
"Freddie is the ultimate West student," social studies teacher Christine Coyne-Logan said.
Coyne-Logan helps run the Student Senate at West, who is in charge of getting students with the most spirit to volunteer to be Freddie.
"Freddie changes up every event. It's all on a volunteer basis," Coyne-Logan explains.
Although we all know Freddie the Falcon in mascot form, a bigger mystery lies underneath the furry suit. A popular phenomenon at West is no doubt "who" Freddie is. Who is the person underneath running the show?
"Freddie is Freddie, it's not the student underneath. You don't want [students] to think of him as the student underneath," Coyne-Logan said. "We keep that a secret so the mystery lives on."
As a student, the school mascot can make a school event fun and entertaining, and can even lift the spirits during a tough game. The mascot can be the most important part of the student body.
"It just hypes the crowd up more. When you have a mascot, it gets people excited to see the team," senior Madison Perry said.
This concept of mystery makes sense, and is even appreciated to keep the spirit of Freddie lively and intriguing, but it does not ease the mind when wondering who Freddie is.
One student who has been Freddie on multiple occasions came forward to share their experiences as the school mascot, but has asked to remain anonymous.
"I think it shows good spirit to volunteer, and you get to see people's reaction to seeing Freddie," he/she said.
Freddie is essential to home games and school activities when getting students excited for their school, and it all depends on volunteers.
As one may prepare for a sporting event or audition, it is important for one to prepare to be Freddie. After all, it is a big responsibility getting massive herds of students excited and moving. Anonymous shared the unseen features of preparing to be Freddie.
"I generally like to spray perfume in [the costume], and it's really hot so I wear a tank top and shorts," he/she said.
There is also the importance of keeping him/herself a mystery, which is difficult to do at large school events one can imagine.
"I have to hide all the time. It's fun to have a little mystery in the school though," he/she said. "I feel like because people don't know me, I can do more funny things, and nobody will figure out who I am. It's fun to me."
Although the costume itself may not be all glitz and glam, the fun of being Freddie outweighs the chore. There is always a goal that Freddie has, whether it may be to get the crowd as loud as possible or on their feet, for this anonymous volunteer, it is a heartwarming one.
"I want to make people happy. I want to see people dance and get more involved. Freddie gets [students] more motivated. It's the best part to me, to see people's reaction," he/she said.
About the Contributor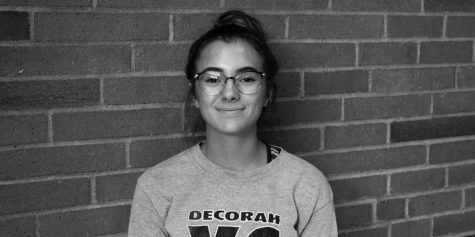 Tori Dierikx, Reporter
Tori Dierikx is a senior and a first time reporter for the Beak 'N' Eye at West High School.

Dierikx spends her free time playing soccer and volleyball....