A photographer on the run
Senior Spotlight: Skylar Hintze
If you're ever looking for her after school, you can usually find her on bus 104 talking with bus driver Bob. She's probably wearing jeans and a grey sweatshirt. She carries her book and her camera with her at all times. She always shares a kind smile and has piles of puns to share. This is senior Skylar Hintze.
While Hintze has been at West, she has participated in a lot of activities such as Battle of the Books, Digital Arts Club, National Honors Society, and Girl Scouts. Throughout high school, Hintze has also continued to grow as a person.
"I try to do the right thing. I have a lot more teachers I can talk to if I need to like Massey. And I have learned a lot more, [for instance] you can only fight to stay with friends for so long before you need to leave because it's becoming toxic," Hintze said. "I tend to go off on my own, like when I'm doing school work, I'm usually working ahead." 
Outside of school, Hintze prefers to spend time with her dogs. Her dogs' names are Bullet, Gizmo and Diva which are all chihuahuas. Hintze's favorite number is five and her favorite color is black.
She has had an interesting high school experience and many relations with teachers. She likes to spend her time at school joking around with her favorite teachers.
"I enjoyed being in [Chad] Wolf's class and learning more about photography and joking around with Wolf. I also like to hang out in Lori Duquette's and Doyle Massey's rooms before school. I enjoy hanging out with friends when I get a chance, mostly in the mornings before school," Hintze said.
Hintze has enjoyed high school, but looks forward to her plans for the future.
"I plan to go to Hawkeye Community College in Waterloo, Iowa and major in photography. I hope to maybe open up my own photography studio in the future," Hintze said.
While Hintze is looking towards the future, she reflected on her freshman year at West.
"Freshman year is important just like the rest. Study, don't try getting behind. If your friends keep leaving, don't try to go back to them. I know how much it may hurt, but it's better to get rid of the toxic people instead of them ruining your life," Hintze said. "Don't take everything so seriously. Don't be so hard on yourself. Be grateful for what you have because anything could happen."
Hintze would like to be remembered by her peers and teachers for being a hardworking student who could also joke around and have fun.
"[For example] when Mr. Wolf would see me in a class he would joke around saying to teachers 'Oh, you have her, I feel bad for you' and stuff like that. I also want to be remembered for being reliable because I like how some teachers can rely on me to do things for them," Hintze said.
Throughout her high school career, Hintze has continued to be loved by teachers.
"I see her as funny, loyal and sarcastic. We do a lot of sarcastic humor back and forth with each other. This year has definitely a unique one because of the messages on the board that she likes to write in the mornings before class. She gets the creativity going," Massey said.
Wolf has had Hintze as a student in Introduction to Photography and AP Photography. For her future, he sees her off at college and becoming more outgoing as she continues to grow.
"She's one of those good kids that makes a teacher want to come to school. Because she is just fun to be around, fun to work with," Wold said. "She's passionate and what you're offering, they're buying. She's a good kid." 
About the Contributor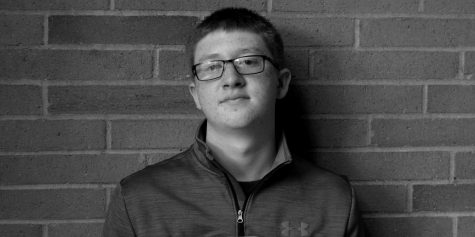 Tyler Newman, Reporter
Junior Tyler Newman is a 16 year old junior with freckles and light redish blond hair. Black, rectangle framed glasses rest on his nose magnifying his...