Humans of West: Jodi Zimmerman
While she sat with her dying father in a bleak nursing home, social studies teacher Jodi Zimmerman learned to crochet. Burdened by chronic back pain and an inability to sit still, Zimmerman kept herself busy by crafting woven rectangles and the occasional scarf. It is a truth well known by Zimmerman and many others that life on this earth is not guaranteed. Because of this, Zimmerman chooses to live her life without a pause button, fueled by curiosity and an insatiable desire to experience new things.  
In order for one to become a teacher, they must first be a student. Stemming from a family filled with educators, Zimmerman manifested a passion for learning at a very young age. This passion soon after introduced Zimmerman to her first love, literature.
Much of Zimmerman's childhood was spent with her nose in the weathered pages of a good book, devouring word after word with a never-ending hunger for more. These aspects of her personality, along with many others, were highly influenced by her late father Jack Dye.
"My dad had endless energy, and I always thought that was the norm for people. I thought everybody worked four jobs, coached, read widely, and chatted with people in an engaging, personable way," Zimmerman said.
Armed with intense ambition and a remarkable work ethic, Zimmerman's father went from a boy who wore clothes thrown out by others to one of the most respected teachers to walk the halls of Moline High School.
Having such a father figure compelled Zimmerman to the profession shared by so many others in her family — teaching.
"I'm not really good at following other people's ideas with fidelity. I prefer to follow my own, so teaching was a good fit," Zimmerman said.
Zimmerman has been a teacher for 35 years, 30 of which have been at West.
"I'm very curious, so teaching works for me. I get curiosity. It feeds me, if you will. It keeps me going. So when people are incurious, I am always flummoxed. It's not a life well lived if you are living in a cave of your own making in your brain," Zimmerman said.
Whether it be protesting injustices in Washington D.C or wandering the vast expanse of the Boundary Waters' wilderness, Zimmerman chooses to live her life driven by experiences.
"I try to say yes. For instance, it would be easier to not go help plant trees, but I try to say yes because then I have that experience with different people doing different things," Zimmerman said.
Those are the moments Zimmerman wakes up everyday for. The little flashes of raw existence, and the unplanned instances that epitomize what it means to truly be alive. What makes Zimmerman different from others is she does not wait for those moments to find her, but rather seeks them out herself.
"
I'm very curious, so teaching works for me. I get curiosity. It feeds me, if you will. It keeps me going. So when people are incurious, I am always flummoxed. It's not a life well lived if you are living in a cave of your own making in your brain."
— Jodi Zimmerman
The seeking and finding of things that matter is of utmost importance to Zimmerman. Furthermore, what is as equally imperative to her is the act of sharing that learned information with others, specifically her students.
An eager recipient of this information is former student Colton Jones. Now majoring in plant biology at the University of Iowa, Jones fondly remembers Zimmerman's extra credit opportunities, which consisted of restoring prairie plants, attending the Quad Cities People's Climate Rally, and planting trees at Credit Island.
"[Zimmerman] was one of my favorite teachers at West. Her teaching style was unpredictable, but in a good way that always kept me engaged. And even if someone's views were different than hers, she still respected them. I also really admired how she always practiced what she preached," Jones said. 
In her time at West, Zimmerman has started Ecology Club and Camp West, supervised Student Senate, led students on daunting Boundary Waters expeditions, as well as many other things.
Behind the years of teaching and instruction is a person who genuinely cares about changing the world for the better, and constantly strives to make others care as well. However, the continuous act of trying to instill compassion in an indifferent mind can be an exhausting task.
After this school year, Zimmerman will retire from teaching and retreat to the Redwoods, where she plans to indulge in unrushed book reading and time to ponder.
"I'd be okay if my students forgot me but remembered something I taught them. Say if they could remember that reading is interesting or worthwhile, or see a tree and wish to climb it," Zimmerman said.
Although her time at West is coming to a close, Zimmerman will be leaving many legacies for students and other faculty members to follow.
Former student and now co-worker Joe Whittemore looked up to Zimmerman when he was a junior in her psychology class, and continues to look up to her as a fellow teacher.
"I think she's a great teacher. She connects with kids in a way that's just different. Not many teachers can relate to students quite the way she does," Whittemore said.
While Zimmerman has fulfilled her role of instructing the social sciences to countless students, she never forgets to include lessons of how to be better a human being, and the importance of harnessing a curious mind.
About the Contributor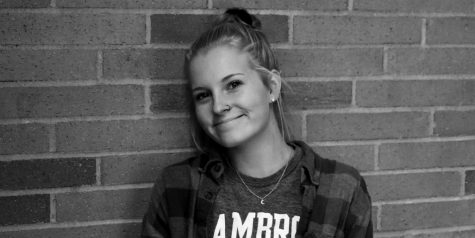 Dani Reitz, Co-Managing Editor
Dani Reitz is a senior and voice editor for the Beak 'n' Eye. As one who is fascinated by literature and language, journalism is a perfect fit for...