Senior Spotlight: Vanessa Banks
Not many teenagers can say that they have written, directed, and produced their own short film, but senior Vanessa Banks can. After being encouraged by West iJAG teacher Cynthia Safford, Banks decided to enroll in a 10 week independent film project program through Urban Exposures and the Figge Art Museum.
"I mentioned [the program] to her and her eyes lit up. I thought it would be a great way for her to explore the world of acting and theater," Safford said.
Her film stars a high school girl named Morgan who is trying to make a decision about what to do with her life after she graduates. Her parents are pushing her to be a nurse, but her secret dream is to become a writer.
"It's a back and forth in my head, and I thought the easiest way to represent it was through disagreement with parents because it's what most kids go through. It's a mental thing that I deal with, choosing between finances and happiness," Banks said.
Whether she is working with the West stagecraft crew or at rehearsal for the Playcrafters Barn Theatre, Banks loves being involved in many aspects of the acting world even though she's not on stage.
Other than cinematography, Bank's academic interests include engineering and the field of medicine.
"My goal is to just be happy. I hope I end up doing something that I really want to do for the rest of my life," Banks said
When the cat-lover and coffee connoisseur is not at school, she can probably be found studying for, "sigh", physics or watching Marvel movies.
"Something people might not know about me is that I'm a huge Marvel fan. The Marvel universe is just so cool. I absolutely love it," Banks said.
Banks' extracurriculars are complemented by the positive aspects of her personality. She is described as organized, responsible and always kind to others.
"She always has her mind set on helping other people and trying to make sure everyone is happy," senior Adrianna McGuire-Riedell said.
About the Contributor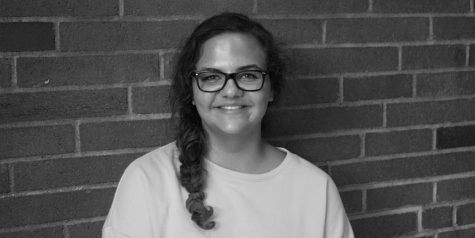 Emma Bernick, Media Editor
Emma Bernick is a senior and is the Media Editor for WHSToday. She loves being able to share her ideas and thoughts through student journalism. She enjoys...