Lights, camera, action!
West students get their first experience in the world of film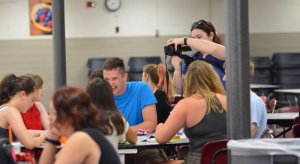 The director looked upon the audience with nervous anticipation, they laughed at the joke and the nerves flooded out like a rushing river.
Being new to film making, Vanessa Banks hopped into the Urban Exposures a 10 week independent film project. The four participants got together every day for four hours to learn about the basics of film making.
"[The four participants] each made a film in one week," Banks said. "It was about 14 hours on set per day. After that we edited, experienced three test screenings and premiered it."
The big finale was at the Alternating Currents Art Festival where Urban Exposure volunteer and West teacher Cynthia Safford watched from the crowd.
"Being able to watch their films along with hearing them answer questions about their journey after all of their hard work was my proudest moment," Safford said. "Vanessa had never picked up a camera before this and here she is making a film. Angel had some interest, but had also never done anything like this before."
The program has weeks of classes covering topics from cinematography to film concepts and basic script writing.
"This project has not only taught me so much about film making, it also has helped me figure out how to work with all kinds of people," Reighard said. "On set I had an age range from 12 years old to 30 years old and I had to figure out how to communicate with all of them."
Overall, an experience such as the Urban Exposure independent film project is life changing and can shed light on unexpected opportunities.
"The art of filmmaking is incredible," Banks said. "It felt great premiering it and having people laugh during my film. The nerves I had before disappeared. That feeling stayed with me all night, it was magnificent."