Moving on: Jason Smith
Hang on for a minute...we're trying to find some more stories you might like.
What do you teach at West?
A: This year I just taught food classes.
Q: Do you have any advice for people that want to teach?
A: Find a content area that you are passionate about and go for it.
Q: How long have you been teaching at West? 
A: One year.
Q: Where are you switching to?
A: I'm going to Midland Schools in Wyoming, Iowa. I am going to be their agriculture teacher, FFA (Future Farmers of America) advisor, and environmental teacher in one biology class.
Q: Why are you teaching so many classes?
A: Because Agriculture is really broad and there are a lot of different aspects to the industry. So you have to teach the whole gambit of the industry in the school.
Q: What are the different parts of agriculture?
A: Agriculture is natural resources, agribusiness, agronomy, agriculture, agro-mechanics, soils, so there are tons of different things.
Q: How do you feel about teaching agriculture?
A: I love teaching agriculture. It's what I went to school for, and it's what I'm really passionate about.
Q: What made you decide to become a teacher?
A: My high school agriculture teacher, he had a really big impact on my life and I want to try to do that for others. [I want] To show how important agriculture is and how much of an impact agriculture makes on everything.
Q: Did you want to do anything else besides being a teacher?
A: When I was first at college I had agribusiness as my major, and then I decided on education my sophomore year.
Q: What do you like the most about teaching?
A: Interacting with the kids and seeing how they grow and progress as people.
Q: What do you love the most about agriculture?
A: That it impacts everybody, everyday, no matter what they do. Everybody eats, everybody drinks, everybody wears clothes; no matter what, you are impacted by the ag industry.
Q: What will you miss the most about West?
A: I'll miss some of the kids I made connections with. That's probably what I'll miss the most. Just being able to connect with them on a personal level and them coming in between classes or before and after school to just talk about things.

Hang on for a minute...we're trying to find some more stories you might like.
About the Contributor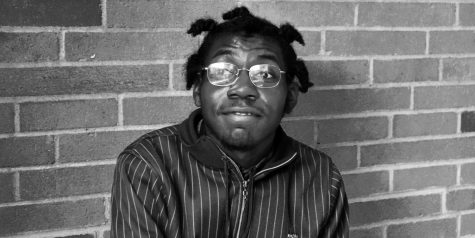 Joseph Potts, Reporter
Senior and reporter Joseph Potts is a very optimistic student who lives his life grateful to be alive each and everyday. He enjoys time outdoors especially in the park by the Mississippi River where it's nice and quiet, with nice people and ducks that wander around.
He is very ambitious, with his future yet to be decided as he has many things that he wants to do such as become a cartoonist, an engineer, or a reporter. No matter what he chooses to become he hopes that people will still think of him as being the jack of all trades, and as being creative. He is known around the newsroom for always leaving little doodles on the board for everyone to see flaunting his creativity and drawing skills.
Joseph is a very kind helpful person although the most important thing to him is solving his own problems before he tries to fix other people's problems. Although you have to work on your personal problems before helping others with theirs, Joseph feels that people should help each other more often and get along more to work on bigger problems. He believes that instead of the world working with one for all this should be changed to all for one, bettering the community.
Written by Aiden Rushing