Sophomore football team starts season strong
On Friday, Sept. 1, West High's sophomore football team played against Davenport Central at Brady Street Stadium. Sophomore quarterback Zach Trevino threw a touchdown pass in the first quarter to sophomore receiver Kyle Burton but Central followed up with a long touchdown pass. Both teams were tied at 6 after the first.
Sophomore defensive back Jacob Smith made a key interception in the second to end a drive by Central.
"As for that interception, I was just doing my job," Smith said.
Sophomore safety Steve Armenta made a few big hits to keep Central scoreless, West had scored another touchdown, making the score 13-6 with West in the lead.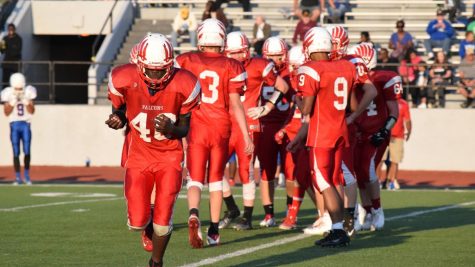 Haley Newcomb, Reporter
With West in the lead, the second half was a defensive effort by both teams. West had ended the game after sophomore defensive back Luke Ford made an interception.
"No matter how hard you get hit, you have to get up and keep trying," Ford said.
West won the game 13-6 and is now 2-0.
"It feels great to win the game; there is a rush of adrenaline that nothing else can match," Smith said.
The next game is Sept. 8 against Burlington at Brady Street Stadium.