West falls to Assumption 50-61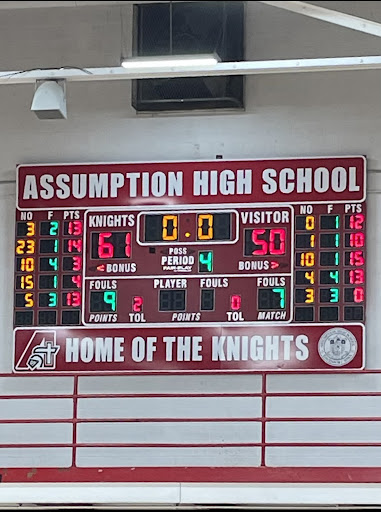 The Davenport West boys basketball team was on the road on Friday, January 21st to take on city rivals, Davenport Assumption. Coming into the game, the Falcons were led by four seniors in the starting lineup. The Falcons' objective was to contain Assumption's star player, Noah Mack, who is third in the Mississippi Athletic Conference (MAC) for scoring, and second for both assists and steals. In this year's previous matchup, West lost 62-77, and they were looking to flip the switch to come out on top.
West came into the game, feeling the energy of the packed gym. They controlled the opening tip and used their extreme athleticism to keep themselves close throughout the first half. The Falcons came out strong in the second half, hitting two shots to take the lead. Assumption was able to stay united during this, gaining back the lead. Due to the lack of made free throws, and Assumption's hot streak from 3 point range, West was unable to gain back the lead. West lost the close game, 50-61.
Through the loss, there were still bright spots in the Falcons lineup. NaZion Caruthers, senior, led West's scoring with 15 points, with Phearless Caruthers, senior, and Jermaine Gardner, senior, combining for 25 points. 
West looks to bounce back from this loss next Tuesday, January 25th at home against Muscatine.