Falcons flying high
Three Falcon athletes compete in State Tournament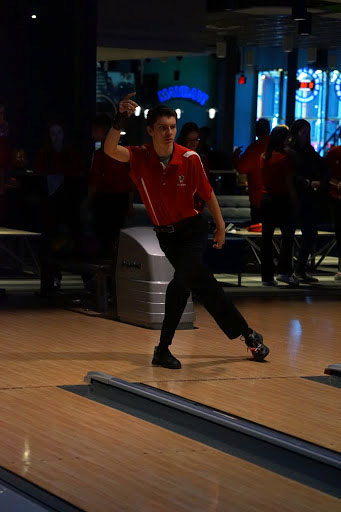 When you come to West High, you are immersed into the winning culture that the school possesses. You come in as a blank slate, and with the help of people along the way, you leave the school a champion. For senior Travis Hodges and juniors Ayden Nicklaus and Steven Daily, they are already reaching success.
Hodges and Nicklaus both qualified for the state wrestling tournament for their weight classes, and Daily qualified for the state bowling competition. Although the three of them may be competing for different sports, it took them lots of time and determination to get them to this point.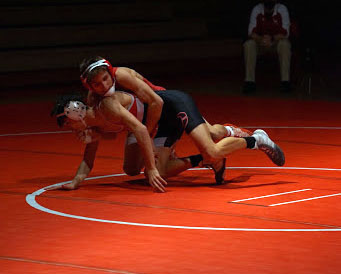 "The people who work hard usually come out on top, and [wrestling] teaches the value of hard work because when you work hard, you get accepted," Hodges said.
This year, athletic seasons have been able to be performed in Iowa, but under certain strict circumstances. Because of Covid, the seasons were running several weeks behind, and especially at the state tournament, special precautions were taken. 
Specifically for wrestling, there was a major reduction in the amount of spectators allowed inside Wells Fargo Arena in Des Moines, as 17,000 spectators were usually allowed, but this year only 5,000 were allowed. This didn't stop the wrestlers from competing at a high level.
"We had a shorter season so we had to practice harder in order to get there. We had less matches, so we had less experience for when we moved onto state," Nicklaus said.
Although Covid had a major effect on the seasons of athletics, the process of reaching glory was still the same. There is still the same desire to do well, along with the nerves of competing at the highest level. Daily competed for the first time at state this year and was grateful for the experience, and says that state is a whole different experience.
"[In the state competition], the lanes are always different, so you never know how you are going to bowl," Daily said.
One of the biggest precautions that bowlers had to follow this year was the wearing of a mask, with the only exception being when it was their turn to bowl. Although the mask is annoying to wear, it didn't affect Daily from performing well.
"It's kind of hard to breathe, you can take it off when you bowl, but I don't," Daily said.
In the end Hodges placed 8th in the 120 lbs. weight class and Nicklaus did not place at all in the 106 lbs. weight class. For bowling, Daily also did not place. Although these were not the results they hoped for, they still represented West. Overall, these standout Falcon athletes have tried their best to stand out amongst others, and they have demonstrated that they are all capable of being successful.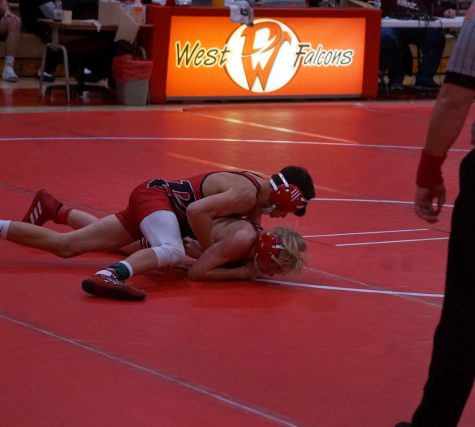 "I just like working hard, and I just push myself when no one is watching," Nicklaus said.