Spirited fans fill the stands
Many things around West high school have changed this year, including the spirit on and off the football field. Not only have the football players gone 2-0 this season for the first time since 1987, but the student section has come alive once again .
The student section has been full for the first two games of the season, the the Booster Club hopes to get student fans to an away game.
For the game against Burlington this Friday, Sept. 11, the Booster Club  has provided a pep bus. Fan attendance has been up so much that they are excited and believe they could get a pep bus full of students.  The bus will be leaving at 3:30 from West, and is only $5 a ticket. The purpose of the bus is to get as much school spirit as possible and to help the boys continue their undefeated season. Athletic director Ken Peterson, believes that the pep bus will help carry over all the excitement.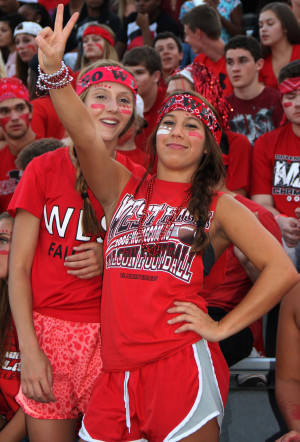 Student section leader, Nate Hoth, was all for the pep bus idea. "It's awesome!" he said."This is the first time in my four years at West that everybody is really involved."
The change in school spirit is something that West needed.
"The huge crowd has given us all motivation to fight for something," says varsity quarterback, Ray Milem. "Not just for us, but for the entire school."  
About 270 students filled the section covered in red shirts and face paint, cheering as loudly as they could. For the first time in years there was a line to buy tickets into the stadium. After the win against Central, the students stormed the field screaming for the boys, proud of their huge victory.
In years past, West wasn't known for their fighting football team or outstanding student section. This year however, things have changed.
"I think the massive student section has really helped us," says tight end Keaton Rommel. "I think the pep bus is an awesome idea, and it motivates me to play even harder, knowing I'm playing for somebody."
The football team has started to look at the season game by game now, rather than big team by big team. "I think we can compete with everybody if we keep playing the way we have been." Milem said. "It's not about beating North Scott or Bettendorf, It's about becoming a family and playing the game we love."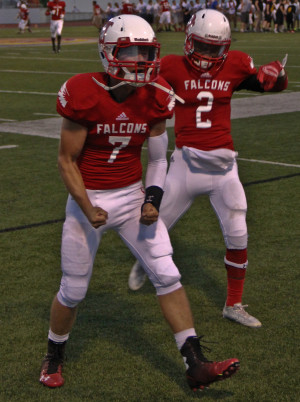 "It's great just to know the school is behind us," says inside linebacker Tyler Poggenpohl. The boys have begun to play not only for themselves, but for the school and everybody in it. They need to be supported back, and the fans have begun to do so.