Book Review: "We Were Liars"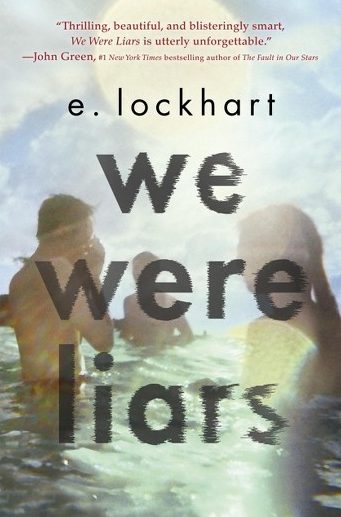 If you like a book with lots of twists and turns then "We Were Liars" by E. Lockhart is the book you need to read. It is about a family named the Sinclairs. No one in the family is a criminal. No one is an addict. And no one is a failure. While reading this book, I thought it was very dark and mysterious and had many questions that needed to be answered by the end of the book.
"We Were Liars" on a scale from one to five, I would rate this book a four point five it is amazing and is a must read for everyone.
Told from the perspective of Cadence Sinclair Eastman. She and her four friends, the liars, run around on a private island off the coast of Massachusetts during the summertime.
The teens spend summer after summer on this island playing games and having fun. Meanwhile the mothers, who are sisters, drink and argue over attention from their father. The mothers all push their kids to agree with whatever their grandfather wants because they want the biggest portion of the family fortune.
"I was meant to help Mummy keep the house by telling my grandfather he was the big man, that he was the cause of all our happiness, and by reminding him that I was the future of the family. I was to beg him by praising him," Cadence said.
During the "summer of" 15 (their age) money gets tighter and the parents drink more and more each night. One night Cadence had an accident that changed everything for the family, leaving her with crippling headaches and total amnesia. What happened that night?
Two years after her accident, Cadence returns to the island, for only four weeks, to piece back what happened that night. Lies upon lies are told to Cadence about that night from family members and friends. It jumps back and forth between the present and memories of the accident.
Slowly and heartbreakingly, Cadence pieces back the events of the accident. In the finale chapter, it hints at redemption for her but it won't be easy.  
Although Cadence and her friends are called "the liars" it never really explains why they are called that.
Lockhart does a good job expressing the pain Cadence goes through when she has the headaches and amnesia. Otherwise, John Green author of "The Fault in Our Stars" would not have said "Thrilling, beautiful, and blisteringly smart, "We Were Liars" is utterly unforgettable."
Overall, I think the book was really good and that Lockhart did a great job by explaining no matter how perfect someone might seem, you do not know what they go through everyday. "We Were Liars" is available everywhere.