Superb Seniors
Seniors recognized for Accomplishments at Honors Ceremony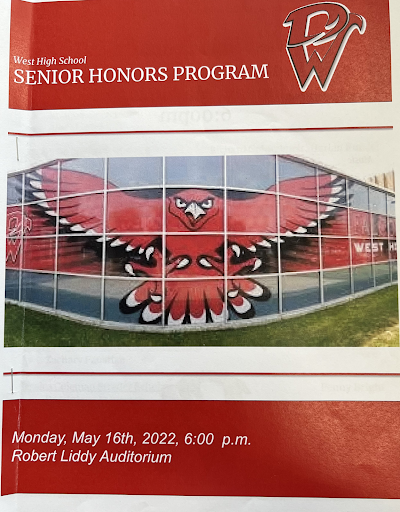 On Monday May 16, Over 200 awards were given out to West High School Seniors, who were recognized for their hard work at the end of the year Honors Ceremony. 
Seniors were recognized for academic awards as well as scholarships. One of these Seniors was Liz Bixby, who received a 2nd Honors medal.
"I work very hard on my grades so getting this shows my work ethic over the last four years." 
Other Seniors were recognized for scholarships. Like Martell McGinnis. 
"I received the Clem Warner Walcott and Morency Family Scholarships." 
McGinnis explains that receiving this award will help him in college. 
"It felt really good to finally be recognized for my efforts and achievements. I was a little nervous about the award ceremony, but in the end it wasn't all that bad. It felt fice to be recognized publicly as well as individually."
School Counselor Stephanie Reagan explains that this ceremony is important because it highlights some of West's Best. 
"It is wonderful to pay tribute to the hardworking seniors and to recognize all their achievements and accomplishments throughout the year."