2019 Hunger Drive comes to a close
Seventeen high schools in eastern Iowa and western Illinois vy for most cans collected before the Thursday, Nov. 14, delivery date marks the end for this year's Student Hunger Drive.
The Student Hunger Drive helps provide food for 23 counties around the Quad Cities area with the aid of the River Bend Foodbank. The mission statement of the River Bend Foodbank is to lead a community-wide effort to end hunger in eastern Iowa and western Illinois.
Student Senate advisor and English teacher Deb Hall says how the Student Hunger Drive helps others,  "because it helps to feed someone who otherwise might be hungry."
The Student Hunger Drive is a competition between schools, and each school has goals they try to meet in order to increase contributions and raise participation.
"Competitions between high schools is to create interest in the need," Hall said. "If the goal is not met, then we'll work harder for the next year."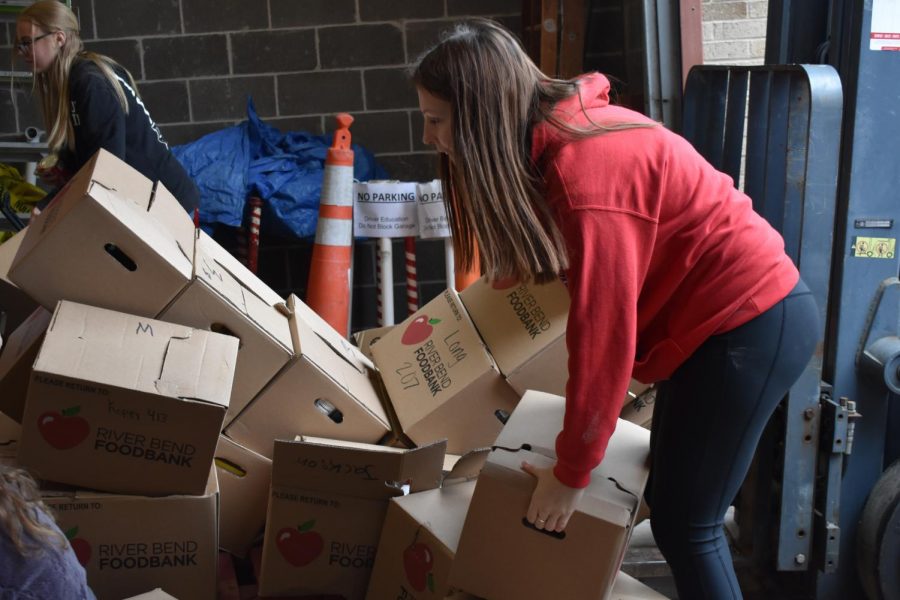 Students at West have been excited to participate in this years Student Hunger Drive due to it being a way to be involved in the community. It is exciting to host fun events with the purpose of raising donations.
"It helps a lot of people in the community," senior Brianna Aleksiejczyk said.
Student Senate has hosted multiple events to raise money and collect cans for the Student Hunger Drive including a movie night, which has received a lot of positive feedback and reception. The Student Hunger Drive still had some plans to raise more money and collect more cans before the Nov. 14, delivery date.
Student Senate organized a benefit at Pizza Ranch where they received 10 percent of all earnings and all earned tips, all proceeds going to raising money for the River Bend Foodbank.
"Events and methods for collecting contributions that were used include collection canisters and competitions between clubs and departments over cans collected. Also handing out fliers to collect food in select neighborhoods around West. These events have been successful so far," Hall said.