Davenport North/West Marine Corps JROTC wins big in Des Moines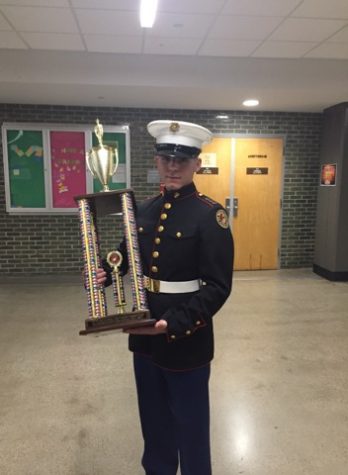 On Saturday, Mar. 31, the Davenport North/West Marine Corps Junior Reserves Officer Training Corps (MCJROTC) program competed in a drill competition at North High School in Des Moines, Iowa. They competed in seven different competitions throughout the day.
The Raiders, a term used for cadets that participate in the physical competition, had both a male and female team. Both teams, led by senior, team captain cadet 2nd lt. Leland Houston, placed second in the physical fitness competition.
Armed IDR (armed rifle drill regulations) led by team captain cadet 1st lt. Nicholas Bougie earned third place. Unarmed IDR (drill regulations) commanded by junior, captain Sgt. Maj. Latisha Luafalemana, brought in another first place win.
Armed Exhibition earned second place, led by West senior, team captain cadet 1st Sgt. Mikel Schavrien. Cadet Schavrien also captured a first place win in Armed solo.
The Unarmed Exhibition team's routine contained marching, stomping, and clapping took home a first place win when co-captain, senior, cadet Staff Sgt. Adria Rice unexpectedly filled in for senior, team captain, cadet 2nd lt. Kayla Masakowski, hours before  the competition.
"Jumping in as captain was the last thing that I expected to happen today, but I am relieved we came out with a first place," Rice said.
An inspection earned the team third place, led by West senior, cadet Capt. Domenic Murphy.
Davenport North/West MCJROTC won first place in the overall competition, bringing home a total of nine trophies.