West students audition for All-State band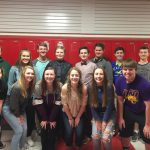 Fourteen musicians in the West High Band auditioned for the All-State Band on Saturday, Oct. 18. Out of the 14 students, four were selected to play in the band, two were selected as alternates and one was recalled.
Sophomore Michaela Sperry, junior Caitlin Bauer and seniors Kersten Kahley and Chane Eckhardt were each selected to participate in the All-State band, with junior William Zogg and senior Sophie Buckley being selected as alternates and junior Carson Kahley being recalled.
"I was really happy about making All State for a second year because all of my hard work and practice paid off," Kahley said.

Students have been preparing for auditions since July 25 when the audition music was released.
"We all worked really hard to make All-State, so I'm glad that after practicing for three months I made it and I was able to get something out of it," Bauer said.
Students from all over the state audition for the band, and oftentimes the number of people auditioning drastically outnumbers the amount of people accepted.
"There were twelve baritone saxophones that were auditioning in our district, and they only took one musician and two alternates. I was really excited about making second alternate because after two years of auditioning and not even being recalled, I felt like I had really improved," Zogg said.
For those that didn't make All-State this year, they still feel as if auditioning has helped them out for future opportunities.
"Auditioning was a really good experience for me because I now know what to expect and I'll be better prepared for next year," Cailin Prunchak said.
The All-State Music Festival will take place from Nov. 16-18, with the band performing on Nov. 18.