Can't sit still
Senior Spotlight: Gabriella Johnson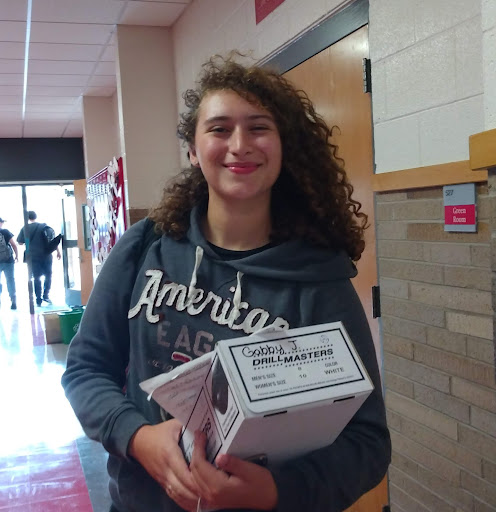 People always say to get involved in high school. Who can agree to that more than senior Gabriella Johnson? During her time in high school, Johnson's been involved in a handful of activities, including but not limited to drama and band. 
Johnson has involved herself in a multitude of theatre activities both in and outside of school.
"I'm on the Iowa Thespian Chapter Board; I'm the secretary for the student board," Johnson said. 
The Iowa Thespians are an educational theatre group hoping to teach more people about acting and stageplays. They've gotten a few new members this year with Johnson's encouragement.
"I was hosting a leadership day… We have good attendance in West High specifically, so I'm looking to expand our troupe this year which is gonna be a lot of fun because we have a lot of new faces this year," Johnson said.
Outside of that, Johnson is currently spending her marching band season as a drum major; a role that is competitive and hard to earn. Drum majors are students in a marching band that keep them together while playing.
"There's, like, an audition process you have to go through… When I started out, I knew it was around ten to twenty people [auditioning], but last year, due to the pandemic, it was around five."
This would be a scary process for someone doing this for the first time, but Johnson has done it before.
Johnson recalls,; "I started my first audition as a freshman going into sophomore [year], even though it's usually an upperclassman who makes it. [It was] just to get that experience." 
To get into the position is a dedicated task, students are graded essentially through a series of categories which includes:; marching, conducting, and a questionnaire essay. Afterwards, the best two scores are chosen and they become the Drum Majors. 
"We have a rubric that we follow and they're scored on how they do… she was one of the top two scores. She's a good leader and she works hard," band director Maggie Oates said. 
Even though it was less competitive last year, it doesn't stop her from being proud of her position and the work the band has done coming out of the pandemic.
"I'm pretty excited for our next coming game, because we're gonna have at least half of the show if not the entire show done, which is exciting because it's been about two years since we've actually been on the field," Johnson informed.