A Life Passion
An artist's growth over the years.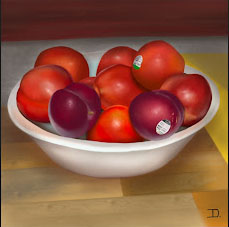 Creating art is a peaceful pastime that many West students partake in. Sculpting, painting, photoshop, photography; anything to satisfy their creative minds. 
Bella Davis is a junior at West and has been an artist ever since she was four. From making small drawings for friends in elementary school to competing in art competitions in high school, Davis has been working to improve her skills and create whatever her heart desires.
Davis has been creating since kindergarten. She used to doodle and create sculptures with her mom, which helped to increase her love for art. For something she had been doing since elementary, she didn't really think she'd be creating as long as she has.
"I actually gave it up for a while in middle school. I didn't draw at all in middle school. But I got back into it when COVID started. I bought a tablet, kind of picked that up and that was my new hobby," Davis said. 
Long-time friends of Davis noticed the change in her art after middle school.
"I don't think [her interest in art] ever came fully to fruition until around middle school. That's when she actually started heavily getting into it," a childhood friend, Nickolas Graap '23, said.
When entering high school, Davis' artistic skills were well improved. She has taken as many art classes as she can since she's been at West. Most of her classes have been with Mr. Schaeffer, who is very delighted with her abilities and creations.
"It's fun teaching kids that are very teachable, and she's definitely that," Schaeffer said.
Davis came into her art classes ready to learn and create. She took all the criticism she was given to heart and even helped out classmates who needed a bit of guidance.
Art competitions are great ways to show off an artist's abilities, and Davis is no stranger to these competitions. The latest Festival of Trees showcase had Davis' work placed as Best of Show. An amazing accomplishment and opportunity.
Davis could not have accomplished all of her achievements without her hard work and passion for art. She enjoys creating, and plans to continue to practice her passion in the future.
"If you have something you're passionate about, keep it in as many aspects of your life. Being happier in the long run has more reward," Davis said.