Fables of Staber
20 years at West comes to a close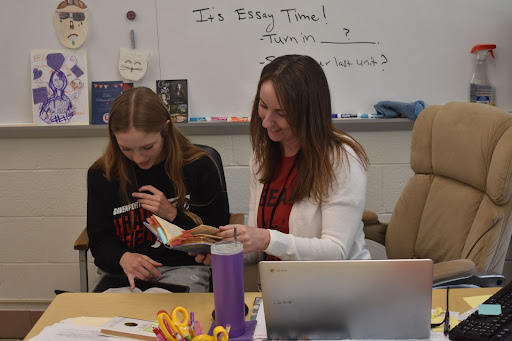 The world of literature is a wondrous world to dive into, though it can tend to be massive and intimidating to traverse. Luckily, teachers are here to help guide students through its intenseness, and to teach them how to journey across on their own. As the school year ends, and the new year starts up, West will be losing one of its guides.
Mrs. Angela Staber, an English teacher here at West, teaching some of the more advanced English courses, will be stepping down from her spot next year after twenty years at the nest. This saddens many students, including senior Ava Martin, who met Staber in Honors English 2 and was in AP English taught by Staber.
"She's such a great teacher," Martin said, "She makes it easier to understand certain assignments and if you don't understand them, she helps you understand them, which you don't get that a lot with some teachers. It's upsetting seeing her leave because she's different."
After a lot of contemplation, she has decided to move to Pleasant Valley High School, taking an English teaching position over there. Though she does hope for the best there, she will miss all of the good times here at West.
"I'm going to miss the camaraderie that I have with my other English teachers," Staber  said. "We've all kind of grown up together, and we've had a lot of milestones that we've witnessed and supported with each other."
This was not an easy decision to make. It took a lot of thinking through, but sooner or later the bandaid had to be ripped off.
"I've just become a little bit frustrated with decisions that have been made that I know our West students are affected by and impacted by it," Staber said
Staber is a lot more than an English teacher. She has influenced a lot of people and, whether people see it or not, has made an impact on students' lives. A few years back, an anonymous student sent flowers and a card to her, writing about how she saved their life.
"They went on to say that one day their sophomore year they had a plan to take their life—what stopped them was an innocent conversation that I had with them in class that day," Staber said. "Something I said and how I connected to my own life made them go home, and instead of ending their life, they told their dad they needed help."
Given the impact she has had, staff and students alike will surely miss her teaching and miss her bubbly personality, lighting up anyone's day.
"I hope that she's treated well over there," Martin said, "And that she gets the respect that she deserves, because she's a good teacher."