Party of a Lifetime!
Bands and people come from all over the world to party at Chicago, Illinois for Lollapalooza.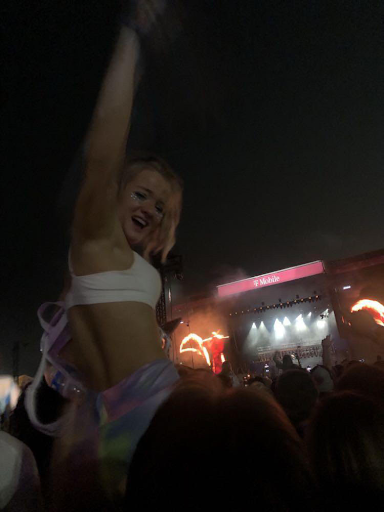 Ready for trouble? From music ranging from larger known bands such as Metallica to smaller bands like Horsegirl – people come from all over the world to escape reality and party. Lollapalooza is an annual festival – currently hosted in Grant Park in Chicago, Illinois. According to Block Club Chicago, this iconic festival draws in around 100,000 people per day, holding up to 400,000 people roughly every event. 
"Every single day. I think about [Lollapalooza]. I just want to go back so bad. It was really scary at times when you would get to a show that was too intense for you. There'll be mosh pits everywhere. Everyone's jumping on each other. You're getting pushed around. It felt like I was a sardine in a very full can. So I started having a panic attack and it was just really scary, but it was really fun," said junior Samantha Hancock.
One way Lollapalooza is promoting the event is the Legend of Lolla mini game within the Lollapalooza website. When you start the game, you are able to choose between three eye-intoxicating characters: a green slime monkey, a bored ape, and a pink rabbit in a hoodie. The goal is to arrive at the concert without failing. All while dodging and defeating unique enemies. This pixelated universe is definitely worth checking out! 
"I saw [the festival] a lot on social media. It just looked like a super fun event. And so I started looking into it more with my friend Macie Stineman. And we convinced our moms to go with us and that's kind of how we started going," said senior Sarah Bernick.
The price of one ticket will cost a pretty penny. General admission tickets start at $350 and can go up depending on the type of ticket. Such as a Platinum ticket, whose starting price is $4200. Thankfully, all tickets will allow you to enter the festival for 4 days. But no price tag will stop people who go to Lollapalooza religiously. 
 "They're expensive, but you experience a lot with the ticket price," said senior Karley Eacker.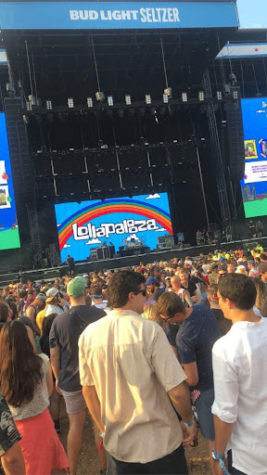 This event unites many different styles of music and people. It features both mainstream and non-mainstream artists. And includes different genres of music such as rock, pop, electronic, dance, alternative rock, rap and much more.  
"Last year we went, Post Malone performed, which was really awesome. And then Miley Cyrus and Megan the Stallion – we were excited to see them, and also Machine Gun Kelly. But I was most excited for Miley Cyrus […] I remember at the Miley Cyrus concert – I'm a big Hannah Montana fan – there was a moment in time when she played Party in the USA. That just brought back childhood memories," said Bernick. 
People gather from all around the globe to meet in one spot. Food, music, people, and memories. It's a party that lasts for four days – it's Lollapalooza!