Kicking back
Falcon Friends hold holiday party for West, Central, North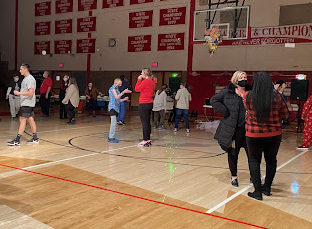 Aah, the last week before winter break. Classes are slowing down, students are getting rowdy, and some teachers hold some mini celebrations for the holidays. Many students have classes where, on the last day before break, the teachers hand out candy canes, or let the class watch a movie. But these celebrations have nothing on the holiday party for the students in the Falcon Friends club. 
Of course, many people in our building don't know what Falcon Friends is. As Falcon Friends member sophomore Shelbi Buchanan puts it, "[We] help the special needs kids, and it's really fun, and you just get to do a lot of fun things. These kids don't really get to leave the classroom a lot, other than just doing the basics. And this was just a fun way to get them out and have fun." 
Every year the Falcon Friends host an annual Christmas party for students from West, Central, and North. They all come to the West High Gym, and stay for a few hours for a party with music, snacks, games, and other festivities. This year, it was held on Thursday, December 16th, during the school day. 
The party was all thanks to Ms. Tara Rommel, a teacher here at West, who organized the party. Angela Tot, a teacher from Central, said, "It wasn't [hard to organize it], the teacher that coordinated from West, she did it all. She just sent us an email, and we just had to coordinate our ride over. So it was easy for us."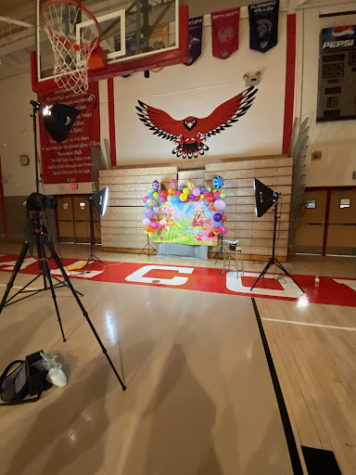 One attendee from West, junior Curtis Canterbury, said, "Yes, [I am looking forward to the party]". The party is a nice change of pace, since his schedule is pretty full. "I have art first block, [second block] I have Mrs. Mandel's room, third I have work experience, fourth block I have Mandel again." He also said that he is looking forward to meeting up with the students from Central and North.
Tot's students from Central had similar feelings. "Our kids were excited because they came last year. They remembered it from last year and they get to see their friends from elementary or junior high from the other schools, and that's so nice," said Tot. 
There are celebrations with the Falcon Friends nearly every major holiday during the school year. For example, this Thanksgiving they got together to make turkeys out of pipe cleaners. But, the annual party before winter break is perhaps the largest. 
"There were balloons everywhere, they had disco lighting, there was food for everyone. The other life skills kids came from North and Central, so there was a big group of kids, [people were] dancing and playing party games, there was a photo booth, and if you [didn't] wanna dance, the bleachers were out so you could just sit and talk," said Buchanan.
This year the party did not disappoint. With food, music, and games, it was a blast to all involved.