T.A.G. You're In!
A new teacher addition to West brings change to the T.A.G. Program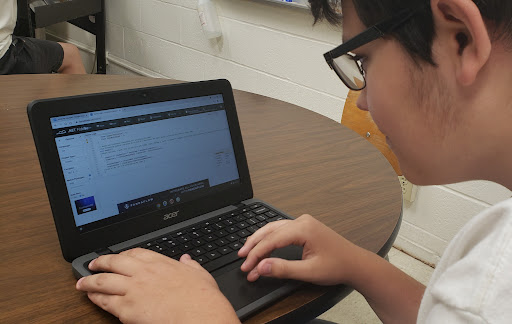 Situated between the family consumer science hallway and the art hallway is a classroom that few people get to see, but holds amazing talent: room 118.
Room 118 is home to the new Talented and Gifted (T.A.G.) teacher Christine Heisler and her T.A.G. classes. This is her first year at West, and her second year teaching high school T.A.G. Overall, Heisler has been teaching T.A.G. at the elementary, middle, and high school level for nine years. 
"The needs are different from elementary to middle to high school, but it is definitely cool to see kids at the different stages because the needs are different," Heisler said. "I'm learning that here at high school you already have your niche already, and so it is allowing you to explore your passion."
Every teacher is different and Heisler is making a few changes to the way T.A.G. is taught, and students have noticed. 
"It's a lot different than how Mr. Swords taught," said Sophomore Sean Brown. "[The class] is taught with the like T.A.G. lesson plan thing, but there are slight variations."
While Mr. Swords, the previous T.A.G. teacher,  focused more on the writing and philosophical aspects of T.A.G.,  Heisler tries to incorporate more of the creative and critical thinking in the form of daily activities. They can range from going over stories with holes to trying to guess a scenario based on a picture.  
Regardless of the change in teacher, how the T.A.G. class runs has stayed the same. There are two options with different coursework. 
"There are two T.A.G. options. T.A.G. option one is the class offered for credit and T.A.G. option two which is different activities that are offered by the T.A.G. teacher for enrichment and extension," Heisler said. 
The option one class helps students in many different ways, with standards like creativity, critical thinking, and social emotional.  
"We have three standards that we focus on: creativity, critical thinking, and social emotional. When we talk about social emotional we talk about it relating to the student," Heisler said. 
The social emotional standard helps T.A.G. students in everyday life, giving students coping skills.
"[T.A.G. students] may have different social emotional challenges that may be different from the general population, like perfectionism," Heisler said. "We would discuss coping strategies to help. There is also the multipotentiality where T.A.G. students feel overwhelmed and can't pick and choose what to do."
Option two runs a bit differently. 
"Option two is like the fun stuff. We have sports for athletes and bands for musicians, but what do we offer intellectuals outside of the classroom? We want to offer trivia bowls and mentoring. It is another avenue to meet those needs." 
Overall, option two allows T.A.G. students to express their passions in the form of unique projects. Freshman Lilli Gustaf's project centers around what she wants to do after high school. 
"I'm doing career searching because I have no idea what I want to do," said Gustaf. "The ability to do what I want has helped me a lot."
Brown's passion is making video games, and he's using T.A.G. as an opportunity to make one. 
"I've fiddled around with Unity (a game engine) before… And I like hearing about the game design process and how games are made," said Brown. 
Part of the reason why T.A.G. classes offer so much individuality is because they are small, 4-7 students per class. This allows Heisler to work more one on one with students, and for the students to make lifelong friendships. 
 "It's a lot better than any of my other classes," said Brown. "I feel like I can speak to people who understand me more."
A common misconception is that only traditionally smart people are considered for T.A.G., but students who excel in art or have talent in other areas can also be identified as T.A.G. 
"Any and all can be in, they can be good test takers or they can be poor test takers," said Heisler. "You could be a student who needs assistance in one area but is beyond bright."