A well earned senior schedule
The pros of staying on track through high school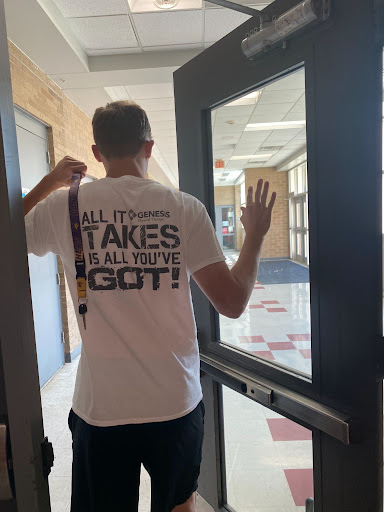 It's been a long day, third block is coming to a close, one last block to go…but wait, why are people leaving?! Senior year, a time where some students look forward to the shorter days and less classes. However, this is no free-for-all, as it must be earned in order to experience. 
Davenport West offers a wide variation of classes for every interest, however as senior year approaches students often think about what they have earned throughout their high school career, like open blocks. If a senior has reached their credits and are on track to graduate, they might be given an open block or blocks in their schedule. Senior Caleb Heskett uses his open blocks to his advantage and enjoyment. 
"I have first and second block open so I typically wake up at 8:30am even though I do not have to be at school until 11:20 am. I honestly just play video games, but I'm going to start working before school now at Hyvee from 7am to 11am," Heskett said. 
Although some students like Heskett choose to spend their extra time working or at home, there are still other options for students who have an open block. One of these options includes working co-op in the office at West. 
"I have first block open and I chose to do co-op where I work in the office, so I'm pretty much just another secretary and I help around with anything. I write a lot of passes which is my main job and since it's first block there's a lot of tardy people. There's so many people that float around in the morning and come late to school that I feel like first block is the busiest to be working," senior Abbey Smith said. 
Open blocks can also be a time to catch a break, regroup, and just relax before going on with the day. The blocks are based off of the classes being offered at the time, so a student could really have any open depending on the class. However some feel there are certain blocks that are better to have available than others.
"I think third or fourth block is the best to have open because I think waking up early is good, however leaving school early just sounds amazing. If I didn't have co-op during third, I would probably just go home, eat something good, and then come back to school," senior Olivia Connor said. 
Not only are open blocks available to seniors, but also the opportunity to opt out of "5th block." It can feel like a relief to be leaving early from this shorter period of time, however that doesn't take away from the glories that 5th block has to offer. 
"Fifth block is an opportunity for us to provide what students need, I mean that is ultimately what it is. There is a state law out there basically stating that every school must have a robust of what they called MTSS system meaning multi tier system of support. Those start every day in your classroom where teachers are providing instructions. If they figure out 'hey if you don't get that' then they provide you extra help," Associate Principal Micheal Orfitelli said. 
Fifth block is also a time for credit recovery. If students are behind or missing credits, this extra time enables them to catch up if falling short. The time provided gives students more one-on-one time with a teacher to better their understanding of what is being taught. It can also be used for homework, studying, planning, etc. Although fifth block allows for students to get work done, there is an understanding for those who are caught up or on track. 
"Seniors are able to opt out of the fifth block for sure are those with an empty third and fourth block because it does not make sense for those students to come back to school for 20 minutes, we realize that. Seniors who are on track to graduate are able to opt out of it, checking through counselors or administrations."
Some may say it's unfair that only seniors are given the option to opt out, however looking back on all the hardships and accomplishments faced, it all makes sense. 
"A senior on track has earned that fifth block as a freshman or sophomore hasn't earned it , and juniors are getting close, but have not earned it quite yet either."
Although open blocks may be something students look forward to as they reach their final year, it's not always ideal. There's so many options to choose from to fill an empty block, so look into the diverse variety of classes West has to offer. 
"Ultimately we would like students to have 16 blocks, a full schedule, take advantage of the opportunity to learn something different. It is more of the counselor working with that specific student and their own academic plans to determine what is needed, this goes for just seniors as there should not be a junior or sophomore with an open block."
As the seniors face their last and final year of high school, they are given back what they have put in, earning what can be considered the best parts of senior year. 
"I think it's nice for seniors to have the opportunity for an open block because it shows freedom that we actually worked all this time to be able to get something good," Connor said.