On the grind
Senior Spotlight: John Miller
254 points, 47 assists, 46 rebounds, and 39 steals, all in just fifteen games. These are just a few of the accolades that senior John Miller accounted for during the 2020-21 season as a member of the basketball team. While Miller is on the court, his hard work and dedication shows to everyone who watches.
Miller is no rookie to basketball, as he has been playing since the summer of fifth grade with some of his closest friends. He began his high school career attending and playing at Davenport Central; he believes that he made the correct decision transferring to West.
"The transfer process was on me, I wanted to better myself on and off the court, and I felt like West was going to get it done," Miller said.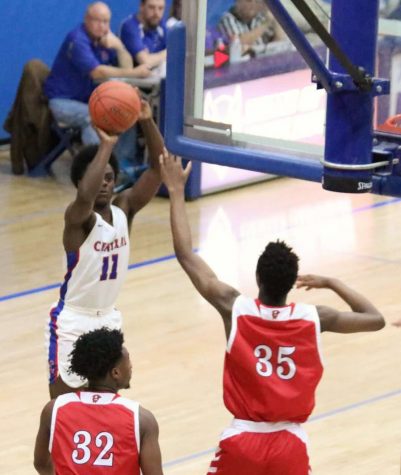 Miller made an immediate impact on the basketball team when he transferred, leading the team in scoring. He attributes this to his work ethic, on and off the court. Along with this accomplishment, Miller also left a positive impact on the team and head coach David Robinson.
"On the court he brought a different kind of toughness, he had a lot of confidence about himself, he really helped all of the guards. He understands the will to win, and he wasn't afraid of playing anybody," Robinson said.
Robinson, once a college basketball player himself, knows what it takes to play at the next level. He has also seen hundreds of players during his coaching career, and Miller stands out to him.
"He can handle the ball, create for himself, and has a high basketball IQ. These things will help you play at the next level," Robinson said.
The hard work done by Miller throughout the season was clear, and his teammates witnessed it first hand. Senior Aldane Barrett has seen Miller as both a teammate and an opponent and has gotten closer to him over the years.
"The trait John has is leadership, even though he didn't have to take on that role this year, he did it anyways and it shows," Barrett said
Ever since Miller started playing varsity basketball he has been a threat on every team's scouting report. Robinson recalls his game plan against Central while Miller was still there.
"I thought, how are we going to stop [Miller], what can we even do, we had to figure out how to eliminate him from going out and scoring a whole bunch of points on us," Robinson said.
Now that Miller's high school career is officially over, his mindset is switching over to get prepared for college, and his goal is to eventually get paid to play basketball. Robinson, once being in Miller's shoes, has some advice for Miller, as he moves on in his life both on and off the court.
"Focus on yourself, respect yourself and others, and never let someone tell you can't do something, you have to always believe in yourself," Robinson said.