Humans of West: Beth Campbell
The main office in West High School is the primary source of information for staff and students alike. With that, it takes a certain group of individuals to manage the tasks of the building. One of these workers is Beth Campbell, the new office secretary, who gives you a warm smile and her undivided attention.
Campbell sits at her desk hard at work, and is always eager to help anyone in any way she can. She can be found letting people into the office and helping people get their visitors pass.
Campbell moved to Davenport 12 years ago from Green Castle, Indiana where she attended Green Castle High School. Her favorite memories of high school were going to the football games and hanging out with friends. Her plan after high school was to attend college, so she decided to attend Culver-Stockton College in Canton, Missouri. Her most enjoyable part about college was that she made plenty of friends.
Campbell's job fits her skills and she gets to speak Spanish on the phone occasionally. Campbell's life, like many others, can be stressful and she needs a nice place to relax. She enjoys exercising and walking the trails in the Quad Cities.
"I always like walking on the Duck Creek bike path and walking trails. It's always peaceful and quiet," Campbell said.
Campbell is excited for the West sporting events, most notably the football games. Outside of West, Campbell has many hobbies.
"I enjoy photography and helping my daughter with her horses. I mostly like photography because it's a permanent record of what happened, and I like to go back and see what they (family) were doing at the time," Campbell said. "Whenever they do a family gathering or a wedding, my family always says 'Beth always has the pictures, ask her, she has a photo of everybody'. I'm like the unofficial historian of our family."
Campbell spends her time outside of West taking photos. She also enjoys bonding with her daughter Maureen, who is a senior here at West, through their shared interest in horses. When she isn't riding around on her horses, she is doing the hobbies she loves.
"
"Attendance is really important. In the real world, they wouldn't let you skip or be late. And always be kind to others.""
— Beth Campbell
Campbell cherishes her family and pets and loves to spend time with them. Although she likes to groom and take care of the horses, she also likes to ride a little bit.
"I do like horseback riding a lot. I enjoy being around the horses. I don't ride very often, but I enjoy being around and grooming them. There is just something relaxing about being around the horses," Campbell said.
Campbell employs some of her time outside of school to be with her horses. You can usually find her at the barn, reading a good book.
"I always feel better after I have been at the barn. It's one of my favorite places to read. It's usually a quiet and nice place to be and hang out," Campbell said.
Campbell always feels refreshed after spending some relaxing time in the barn. Campbell recalls a fond childhood memory, which occurred in 4-H, a volunteer group.
"I always enjoyed being part of 4-H when I was a 10-year 4-H member. I always had plenty  of fun at 4-H. I feel like I learned a lot there. I had horses, cows, and I did photography and sewing," Campbell said.
Campbell is a 10 year 4-H member and she really liked to work with the animals their. It is something she had a lot of fun at and has cherished forever. She also has some advice for students here at West.
"Attendance is really important. In the real world, they wouldn't let you skip or be late. And always be kind to others," Campbell said.
About the Contributor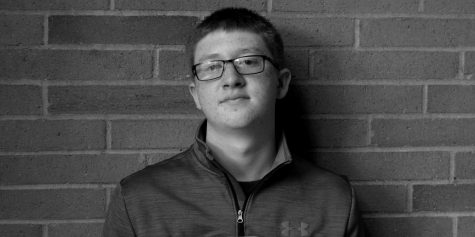 Tyler Newman, Reporter
Junior Tyler Newman is a 16 year old junior with freckles and light redish blond hair. Black, rectangle framed glasses rest on his nose magnifying his...