The Debates of Donda
Kanye West releases new album
There is no secret that hip hop star Kanye West is one of the most polarizing figures in pop culture today. His questionable presidential campaign last year, and his shocking interruption of Taylor Swift's 2009 VMA acceptance speech, are just hand picked examples of West's controversial behavior. It's safe to say that West is no stranger to the spotlight, and the release of his tenth studio album "Donda" makes no exception. 
The album was flooding with incredible hype and anticipation prior to its release, and just ten days after its release it hit an unbelievable one billion streams across all streaming services. With such a large amount of consumption, there is bound to be a vast range of opinions and emotions surrounding the project. These mixed feelings remain as such among the students at West High School. Approaching different individuals will grant a unique response almost every single time. 
"I personally haven't listened to the album, but on Twitter I saw a lot of people who said they liked it, and a lot of people that said that they didn't, so it was split 50/50," senior Carleigh Argenta said.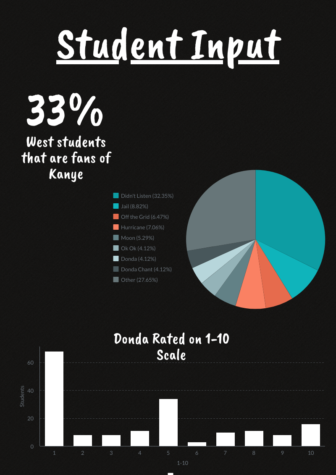 While everyone has a variety of different views concerning "Donda", two main sides take the forefront: good and bad. These two conflicting thoughts have taken social media by storm following the release. Most long time supporters of Kanye West will be quick to claim greatness regarding the album, yet not all share the same outlook. 
"I feel like 'Old Kanye' is a lot better than 'New Kanye'. His lifestyle and his music are kind of going downhill, but hopefully he can find that 'Old Kanye' again," senior Chance Dreyer said.
Dreyer himself carries high praises for West, yet holds a relatively negative stance on the artist's latest release. Of Kanye's nine previous solo projects, the first seven have all achieved RIAA platinum certifications, while the two most recent have both fallen short of the mark. Among those with a dislike for West, a popular consensus is arising that he is taking a step back professionally, and that it may be the beginning of the end for his career. Although, many fans of his predict that the best is yet to come, and that "Donda" is just a stepping stone towards a brighter future. 
"It was more of a tribute to his mom, it wasn't like he was trying to go out and sell a lot of copies," junior Jaylen Green said.
Indeed, Donda West is the name of Kanye's late mother, and he has made it known that the project was dedicated to her. The first track on "Donda" is fifty two seconds of the name being repeated until its ending. The pattern of the chant is meant to represent Donda's last heartbeats as she was on her deathbed. Kanye's previous track record is directed towards fans of hip hop. "Donda" and his previous studio album "Jesus Is King" possess more variety, making them open to listeners of all genres. In recent years, West has attempted to take his religion much more seriously, relating much of his recent music to God. That being said, it is hard to decide if future releases will follow the same route, or bring a more centralized focus of his prime years. 
Along Kanye West's nearly twenty year career, many ups and downs have come his way. Even as a generally respected and admired figure in the music scene, he is more than used to the criticism surrounding his name and work. Often found under the microscope, West experiences more attention and judgement than many could ever imagine. The premiere of "Donda" does not deviate from this pattern, yet he takes everything he hears and runs with it to lead a successful career and life. While countless people will continue to speak his name for ages, the rap phenom will proceed onwards for many years to come, facing adversity every step of the way.    
"He produces really good music and he's able to get a lot of crazy features on his songs," Green said.